July 2006 Archives
« Previous · Home · Next »
Please don't make NBS establish a commenting policy
July 30, 2006 10:36 PM
Well! We don't know if this means we have arrived in the blogosphere or what. But it looks like we will have to make at least a warning announcement, and explain that we will not allow ad hominem or abusive comments. For the record, witty, entertaining and sarcastic remarks are more than welcome here at NBS. We did that when we made fun of Federated C.E.O. Terry Lundgren, because of published remarks he personally made to the Wall Street Journal. Apparently those remarks hit a nerve with someone, who decided to pile on, and launch a diatribe against Mr. Lundgren's new wife. And in a way that was not witty, entertaining, or sarcastic. So poof. We have edited/deleted.
NBS reserves the right to edit or delete any comment for any reason.
Confidential to the new Mrs. Lundgren: We suggest you steer clear of persons named "Jenny." You may also want to ascertain if a previous Mrs. Lundgren was named "Jenny."
Blackwell attracted cross-over MINORITY votes in primary
July 27, 2006 04:02 PM
Well, the Hamilton County Republican Party is out with a press release today touting the fact that Blackwell attracted cross-over Democratic votes during the May primary. That is interesting in and of itself, but we don't know why they are so coy. It is perfectly clear what they mean: black Democrats crossed party lines to vote for Blackwell in May. Considering that one of the biggest questions in this years' governor's race is the extent to which black Democrats will turn out for Blackwell, this is big news. Wonder if anyone will pick up on it?
According to the press release:
Post primary election analysis shows that 2,341 Hamilton County Democrats switched parties and voted Republican on May 2. Conversely, only 823 Republicans crossed over to vote Democrat. The crossover vote was highest in certain areas of Cincinnati. Democrats crossed over to vote Republican by wide margins in Cincinnati's Ward 6 (Downtown): 25-3, Ward 7 (Roselawn and Bond Hill): 81-10, Ward 12 (University Heights and Clifton Heights): 16-2, and Ward 22 (Camp Washington and South Cumminsville): 16-1
For all of you non-Hamilton County folks out there, you need to be aware that Downtown, Roselawn, Bond Hill, University Heights, Clifton Heights and South Cumminsville are ALL black neighborhoods. And there was uncharacteristically large support for the Republican ticket in those parts of town in May.
What does this say about what will happen in November?
NBS isn't single anymore, but...
Forbes magazine says that Cincinnati is the 26th Best City for Singles. We're up from 30th last year, 39th the year before, and 40th the year before that. Thankfully, Forbes ignored the fact that NBS himself is now off the market. Otherwise, our ranking would have surely have taken a nosedive.
Interestingly, Forbes claims that Cincinnati is the No. 1 city in the United States for nightlife. CinciUpdate is jumping all over it.
We're all about good PR for the 'Nati here at NBS, but come on. The No. 1 city for nightlife?
Carnival of Ohio Politics
The Newshound is back with this week's
Carnival of Ohio Politics
. It's got all the news that's worth reading, including ample links to NBS, among others.
Go check it out
.
"This is the outcome we all hoped for"
July 26, 2006 10:13 PM
From the Enquirer:
The city of Cincinnati was notified today by the Justice Department that it has been in compliance for at least two years with 55 of the 81 items the federal government wanted monitored after the 2001 riots.

Those items include matters such as increasing police accountability, decreasing incidents of force being used against citizens, and creating a better way of tracking and dealing with citizen complaints against officers...

"This is the outcome we all hoped for," Cincinnati Mayor Mark Mallory said.
And, in completely unrelated news, the Enquirer also reports in their article, "Teen killed in shootout identified," that:
The homicide is the 52nd in the city this year.
But, the good news is that the Cincinnati P.D. is complying with the Collaborative Agreement. It is just like Mayor Mallory says: "This is the outcome we all hoped for."

How sharper than a serpent's tooth it is, to have a thankless child
What do former Secretary of State Henry Kissinger, former Chase Manhattan C.E.O. David Rockefeller and Oscar de la Renta's wife Annette have in common?
They have all filed affidavits alleging that Brooke Astor's son is denying care to his 104 year-old mother. Mrs. Astor is one of the most respected and beloved philanthropists in the United States, and a New York City legend. Now aged and unwell, Mrs. Astor lives in her Park Avenue home with the help of nurses. The New York Daily news has the appalling details. Among them:
"Her bedroom is so cold in the winter that my grandmother is forced to sleep in the TV room in torn nightgowns on a filthy couch that smells, probably from dog urine," according to the affidavit.
Her grandson is leading the charge, against his father, who pays himself $2.3 million per year to ensure that Mrs. Astor has proper care. She is also being denied medicine, and her nurses are using their own money to purchase toiletries for her. All for a woman who was once one of the most well-dressed and generous women of her time. Amazing that this should reach such a point that the grandson--and Kissinger, Rockefeller and de la Renta--would have to seek court intervention. Perhaps the son thinks she was too generous with the family money?
UPDATE: The post's title is from Shakespeare. King Lear in particular. But of course you already knew that.
NBS Edits "People"
In case you hadn't heard, Lance Bass's shocking announcement is the cover story.
Now where do I go to get my neighborhood back?
That's what some folks in Norwood must be asking today.
Yes, the Ohio Supreme Court has ruled that the Ohio Constitution affords greater property rights protections than the U.S. Constitution does. In Ohio, it is now unconstitutional for the government to take private property and hand it over to a developer just to increase the tax base.
Kudos to the Ohio Supremes for their unanimous opinion, which we have read. Our favorite part:
Believed to be derived fundamentally from a higher authority and natural law, property rights were so sacred that they could not be entrusted lightly to the "uncertain virtues of those who govern." As such, property rights were believed to supercede constitutional principles. "To be protected and secure in the possession of one's property is a right inalienable, a right which a written constitution may recognize or declare, but which existed independently of and before such recognition, and which no government can destroy."
NBS's legal analysis? WOW. We can't believe the Ohio Supremes came right out and said it like that, but there you have it, folks. Property rights in Ohio are derived from a higher authority (and by higher authority, people, they mean God). Property rights are "inalienable." And, perhaps most intriguingly, they existed "independently" and "before" constitutional recognition. We at NBS are tantalized by the concept of pre-constitutional natural rights--and are completely dumbfounded that a unanimous Ohio Supreme Court would even mention such a concept. What is this, 1776?
Would that it were so!
Oh, and as for the City of Norwood? What was it the Court said about the "uncertain virtues of those who govern"? That's legalese for "screw you, Norwood." We have to say it again: WOW.
Kudos also to the homeowners for sticking to their guns--and for stickin' it to the man. Sorry your houses are now in the middle of that ugly mess. We know the fight was never about the money. But believe us, we won't hold it against you if name your price and cash out. You deserve it.
Plus, a Crate and Barrel really would be nice.
Federated C.E.O. Has Carefully Cultivated Image As...
July 25, 2006 05:40 PM
A talented businessman? A fashionista? A person who pays great attention to detail?
Or is he just an ass, because that's what he sounds like to us. Thank God The Post has reprinted this article, which first appeared last week in the Wall Street Journal. When we saw it then, we could not believe it--or that it profiles the C.E.O. of a company based in Cincinnati. It begins:
When Terry Lundgren planned his wedding last summer, he painstakingly deliberated the reception room's layout, chose the menu and handpicked the wine selection. Then he went a step further, designing the wedding gown for his fiancee, Tina Stephan.

"I wanted something very unique, that no one had done before," Lundgren explains....

Stephan saw her gown for the first time just before she walked down the aisle.
Okay. We don't care if you are the C.E.O. of a department store, anal-retentive, and a clothes horse. The groom does not get to pick what the bride gets to wear, and have it be a surprise. It just doesn't work that way. And what kind of self-respecting woman would farm out ALL of the wedding planning--even down to the design of the wedding dress--to her fiance? Can't she figure out how to dress herself?
The whole piece is lengthy, and the entire thing is worth reading. Throughout it, though, we are struck by one thought: He probably thinks this is really good PR! How could he have no idea how awful this makes him sound?
Lundgren grew up in a middle-class California home where fashion wasn't a priority, he says. His father assembled JBL speakers and later sold real estate. His mother was a homemaker who served the family dinner every night at 5:30. "If I wanted clothes, I was buying them," Lundgren says. Still, as a teenager, he became interested in fashion and honed his look: Sperry topsiders and Farah slacks.

"They were a tailored pant with a cuff - they were so different than just a jean," says Lundgren. "No one was wearing them at school. They were higher-end."

For Christmas, each Lundgren sibling was expected to get the others a $2 gift. "I told them, 'If you're going to get me something for $2, get me a pair of really nice socks,'" he says. "Through that process I got my first pair of cashmere socks - they were a little warm for Orange, Calif., but I thought they were great."
Terry, Terry, Terry. Class tells, and it doesn't sound like you have it. Even (actually especially) if they were trying to sell an upscale image for Macy's, wealthy people with class would not speak this way. Don't discuss the topsiders and Farah slacks that set you apart from the rest of your high school. Don't talk about the tailored pants and cuffs that nobody else had. And don't make fun of your family's $2 Christmas gifts. It sounds like you think you were too good for them. You do yourself no favors by revealing that to the public.
What the heck is going on with the bias at Openers?
Here in Cincinnati, we know people are more liberal up in Cleveland. We're used to it, and most of the time, we don't really care. To each his own. We just attribute it to grumpiness caused by cold weather and the Browns. And we leave it at that.
But what we don't get is the Cleveland Plain Dealer. At the Enquirer, they at least pretend to separate their op-ed from their general news coverage. And, even at the Enquirer's Politics blog, the snark is usually bi-partisan. But at the Plain Dealer, they don't even bother. Take the entries at Openers over the past week:
7-25 "Blacks against Blackwell," by Mark Naymik. General Theme: "Ken Blackwell might be black, but there are some black people who don't like him. Did you know not all black people vote the same way? And some of them are not voting for Blackwell, even though he's black!"

7-24 "No wedding bell blues, but lots of green," by Stephen Koff. General Theme: "Did you know gay people give lots of money to Democrats? In fact, lots of gay people don't like Ken Blackwell."

7-24 "Candidates won't file jointly," by Mark Naymik. General Theme: "Ken Blackwell won't give us copies of his tax returns. He is secretive. He does not believe in open government. He may possibly be rich."

7-24 "Take this poll," by Mark Naymik. General Theme: "Have you heard Ken Blackwell is not looking good in a recent poll? We wanted to make sure we mentioned it. Let's ask an 18 year-old Blackwell volunteer for comment, knowing he will be off-message."

7-21 "Teen lends hand and wallet to Blackwell," by Mark Naymik. General Theme: "Ken Blackwell's youth support is actually a rich kid who lies about how much he is giving, and who is probably using his daddy's money anyway. We should keep his name on file, and call him for comments later. He'll probably be off-message."

7-20 "Dems jump on Blackwell," by Mark Naymick. General Theme: "Rahm Emanuel and Chuck Schumer cast aspersions about Ken Blackwell's integrity, let's repeat what they have to say."

7-20 "Strickland in space," by Mark Naymik. General Theme: "Ted Strickland is hip, uses Myspace, and is "Protestant, straight and a Leo." Ken Blackwell? Just straight."

7-19 "Blackwell's lastest message," by Mark Naymik. General Theme: "Ken Blackwell is race-baiting, and trying to scare blacks away from voting for Ted Strickland, who is not, in fact, "a whitey." He supports affirmative action!"
That's all in just the past week. We invite you to review it yourself. Of all the entries from the past week, there is not one that is even arguably pro-Blackwell. Not one. You would think there would be at least a subterfuge of fair coverage!
Life in L.A. is Tough Sh*t
The next time I hear someone complain about life in Cincinnati, I am going to point them to life in L.A., as described by fellow conservative blogger Moxie, and Andrew Breitbart, formerly of the Drudge Report, and now with Breitbart.com.
Moxie describes her trip to the grocery store in the 100 degree heat over the weekend, and her discovery, upon returning to her car, that it had been smeared with human homeless feces and the L.A. Times. As she explains,
There is always a piece of foam falling off the space shuttle, they should just use human shit from homeless intellectuals. Because even after 10 minutes with the high pressure water spray, scrubbing foamy brush, high pressure soap – it was baked on.
Apparently, this is not an isolated incident in L.A., because Andy Breitbart had almost the exact same thing happen to him, except in his case, he witnessed--along with his wife and kids--the "homeless diarrhea volcano man." He used the occassion to explain to his kids why exactly he supports the death penalty.
Indeed. At NBS, we call that a parenting moment.
Book Deal for Bloggers
Gawker's got the goods on the book deal Heather Cocks and Jessica Morgan have inked with Simon Spotlight Entertainment. Heather and Jessica are the bloggers behind the hilariously funny website, Go Fug Yourself. It sounds like "The Fug Awards" will be a bitchy rehashing of Heather and Jessica's wicked takes on celebrity style. Nobody bitches better. And it sounds like the book is basically written. Congratulations ladies.
Mayor Mallory wants us to "Stop the Violence!"
Do you think this billboard is an effective way to "Stop the Violence"?
Of course not, neither do we. What a waste of time, space and money. And probably a self-fulfilling prophecy. Putting that billboard up in a neighborhood with a crime problem is not going to help the crime problem. It's just going to make the non-criminals stay the hell out of there, and make the people who can't leave all the more dispondent about the crime situation.
Criminals are NOT going to respond to public service announcements.
You can weigh in on the signs yourself in a poll sponsored by the Cincinnati Beacon.
Update on Bouncy Castle Tragedy
Today's Daily Mirror brings us the heartwarming article "Miracle of Rosie: Survivor of Bouncy Castle Tragedy."
Thought you should know. NBS is where everyone turns first for their bouncy castle news.
"Can manicured lawns peacefully coexist alongside wildflower fields, thigh-high grasses and cattails?"
That's what this article in this morning's Enquirer asks.
Sounds great to NBS. It will be interesting to see how the booming housing market in Butler County reacts.
Great Minds, Great Minds
What was it we were saying yesterday about Calista Flockhart's new show, William F. Buckley and Dwight Eisenhower? Well it looks like it was the same thing Laura Ingraham is saying today in National Review:
The show's writer Jon Robin Baitz says that she's a "thoughtful conservative" and that "[s]he's ideologically, in some respects, very much in mind with the older parts of the party, the sort of Eisenhower Republican, the William Buckley conservative. She's also a humanist." Uh, last time I checked Bill Buckley didn't think much of Eisenhower, Jon-Jon. And no respectable conservative who came of age during the Reagan Revolution would ever describe himself as a "humanist."
We are thrilled to be able to bring you Laura Ingraham's commentary a day early. Yesterday we suggested that Brothers and Sister's hire Cathy Seipp to consult for the show, and explain to their producers what a conservative is. Laura Ingraham would be another great choice.
Come to think of it, so would NBS!

"Not everybody does it but everybody should..."
July 24, 2006 04:12 PM
...NOT be doing it in the woods with this guy!!!

George Michael has been photographed in the U.K. having a private moment in the woods with the man pictured above. [For those of you who may not know, George Michael is a former pop star. Well, he probably does not use "former" as a modifier, but nonetheless, former is what he is.] The News of the World has all the seedy scoop. The lowpoints:
Meanwhile his new buddy Kirtland crept from the undergrowth looking sheepish and rushed to his Ford Transit van. As he opened the door a grubby, stained mattress was clearly visible in the back.

We later tracked him to his home 60 miles away—a squalid flat in Brighton, East Sussex.

Looking gross and dishevelled, Kirtland answered the door naked — pulling on grimy shorts as he invited us in....

Kirtland's dingy place just off Brighton seafront, was littered with rubbish, dirty crockery and filthy laundry. His only companion is a 20-year-old cat.
Disturbing. A stained mattress in the back of the van? Answering the door dirty and naked? And he likes cats?
None of that is as disturbing as this part, though:
Kirtland's confession then took a bizarre twist as he bragged: "There's a secret that I have which no one knows about. It's a personal thing.

"Most people pull away from it. But George actually seemed to respond.
WTF!
Well lookey here...
An email from the Blackwell campaign touting the results of the Wall Street Journal Zogby Intertactive Poll. It shows Blackwell trailing Strickland by 4.6%, with a 3.2% margin of error.
It didn't take long for that to arrive in our inbox, after we'd expressed our concerns about the Blackwell campaign earlier today. We'd like to think they were being responsive, but of course they sent this to everyone.
In any event, these results sound a lot more plausible than the Dispatch's poll results from the weekend. Although we do have concerns about Zogby's accuracy, given their record from the 2004 Presidential election. And, any time a campaign sends out an email touting a poll that shows them "only" 4.6% behind, there is still cause for concern. You can bet if their internals showed better results, they'd release those too.
Flop Premiering this Fall
Editor & Publisher is out with a story about a new show premiering this fall. Brothers and Sisters will air in the choice time slot that falls right after Desperate Housewives. It will star Calista Flockhart as a "conservative newspaper pundit." We're using the scare quotes on "conservative newspaper pundit" to emphasize that the show's producers likely do not know what the hell such an animal might look like. We should all be on notice: gross misunderstanding of conservatives will be showcased in the near future.
The show's producer describes Calista's character thusly:
She's ideologically, in some respects, very much in mind with the older parts of the party, the sort of Eisenhower Republican, the William Buckley conservative.
So before the first episode even airs, we can see that they are starting out by getting it wrong. Eisenhower Republicans are NOT Buckley conservatives, Hollywood. WFB founded National Review in large part because of frustration with the liberal policies of the Eisenhower administration. Yes, Hollywood. Conservatives think Eisenhower was a LIBERAL. We don't think much of Nixon, either, but you have never figured that one out, and it's probably a lost cause trying to convince you.
But in any event... Hollywood: If you think Calista Flockhart is going to do a good job portraying a conservative newspaper pundit--and on a show that speaks of conservatives like they are an exhibit from the zoo--think again. Perhaps also consider hiring a conservative--Cathy Seipp, maybe--to consult for the show. Girl's local. Funny too. And she'd actually know what it is like to be a conservative newspaper pundit.
NBS Watches "Miss Universe"
NBS and Mrs. NBS watched the last hour of the Miss Universe pageant last night on NBC. Miss Ghana won "Miss Congeniality," which we'd always assumed was the award that went to the nicest, but fatest, girl in the competition.
But this year it went to Miss Ghana, who was not even slightly fat. But hey. At least when you see Miss Ghana, you know the reason she is emaciated is not because she has an eating disorder. It is because she is Miss freakin' Ghana.
Of course the winner overall was Miss Puerto Rico, which we do not understand. How is it that Puerto Rico and the United States both get to send in contestants to Miss Universe? We think someone does not understand their geography. Donald Trump, most likely. He was the producer.
Ann Coulter on being "too harsh"
In an interview with AOL Books...
"[A]sk the money-changers how nice Jesus was. There are many commands to go out and do battle against evil. And maybe I don't get it right. Maybe when I meet my maker he'll say I was too harsh. Maybe he'll say I wasn't harsh enough. Who knows? I'll apologize for not getting it right and thank him for dying for my sins."
Right about politics, right about religion. Yet another reason to like her.
And of course, liking her annoys all the right people. That's a third reason.
Weekend Shock Poll
Tongues are wagging over this weekend's shock poll in the Ohio governor's race. According to the Columbus Dispatch, Ted Strickland is up by 20% points over Ken Blackwell. You can find plenty of discussion of the poll's internals elsewhere. Our thoughts are these:
Some poll results are simply too out of whack to be plausible--and this poll falls squarely into that category. In a state that is roughly 50/50 Republican/Democrat (as evidenced by the last two presidential elections), there is simply no way one candidate from either party can be trailing the opposition by 20% in a statewide election. No way. The Dispatch editors should have taken one look at the poll results, and realized that something was seriously wrong with the methodology.
That said, it is also clear that Blackwell is trailing Strickland by a significant margin. There are undoubtely several reasons for this, and the person most responsible for this situation is Jim Petro--whose self-delusion kept him in the primary race to the bitter end, despite ample evidence that he could not win. This forced Blackwell to spend huge amounts of money on the primary race. And of course, there was all the negative campaigning, at a time Ted Strickland could just sit still and look good.
It is unfortunate that it falls upon Ken Blackwell to clean up this mess. But he is the candidate, and he is responsible for his own electoral success. He is trailing in the race, and the only question is by how much. If he wants to win, he's going to have to start doing something differently. We have complete faith in his ability to garner attention. We just hope he is thinking seriously about how and what kind of attention he needs. And when he needs it, because it should be sooner, rather than later.
"Killed by the Bouncy Castle"
NBS loves the Daily Mirror, the British paper formerly edited by Piers Morgan. We especially love the headlines and the melodrama. Surely no American paper would have the gall to run a headline "Killed by the Bouncy Castle." Well, expect maybe the New York Post. But in any event, for the full story on the bouncy castle tragedy, go here.
"HORRIFIED witnesses told last night how they watched helplessly as parents and children plummeted to the ground after a huge bouncy castle was sent rocketing 120ft into the air.

The 160ft square inflatable called Dreamspace soared over the tops of trees before somersaulting and crashing back to earth, killing two women and injuring at least a dozen others."
Nocturnal Creatures
July 18, 2006 04:50 PM
Things that hang out by the trash cans at night might carry diseases....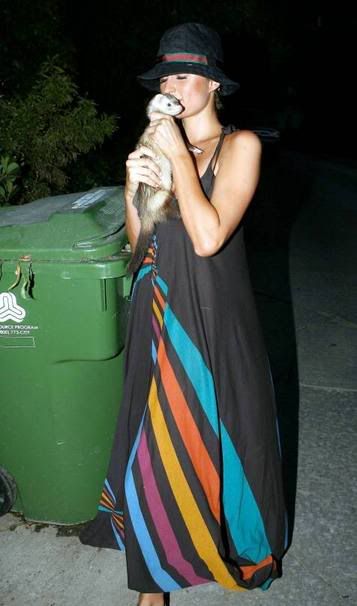 ...that ferret should get itself tested.
"How'd you learn to do that?!!!! is that a blog? i dunno what a blog is..."
NBS's mother has discovered NBS.
"So glad the NYT got my letter..."
When we say that we think Ann Coulter is a bitch, we say that not with derision. But with admiration. Check out the email that she sent to the folks over at Memo Pad. They had written her to ask for response to these comments by a New York Times staffer on last week's corn starch/fake anthrax attack at the NYT:
"This thing makes all of Ann Coulter's comments a little less funny," said the [staffer]. "I wonder if she considers herself at all responsible when lunatics read her columns and she says that we should be killed."
Ann's emailed response?
"So glad to hear that The New York Times got my letter and that your friend at the Times thinks I'm funny," she wrote back. "Good luck in journalism and please send me your home address so we can stay in touch, too.

"P.S. If we get hit again, don't forget to ask the NYT if they consider themselves responsible since they have repeatedly exposed classified government programs designed to prevent another terrorist attack."
Makeover time for Jean?
Over at Ohio 2nd Blog, Mrs. Editor has a somewhat amusing post, suggesting Jean Schmidt needs an Extreme Makeover. Although we are fans of Jean's, we do have to agree that the aesthetics need a little work. Ohio 2nd has the following suggestions:
We vote for Bachellorette No. 3!!! Hott.
Marc Dann Thinks Criminals are the Victims
Lincoln Logs has an interesting post up on Marc Dann, the criminal defense attorney/Democratic candidate for Ohio Attorney General:
Anyone know what happens to drug vehicles and assets? Of course, they are seized and forfeited to the locality where the crime took place. The local department can then use the vehicle or sell it and use the assets for operations.

That is, unless Marc Dann is involved, at which point he wants the vehicle and money returned to the "victim's" family, and when Marc Dann is talking, the "victim" is the criminal.
You can read more about the lawsuit Marc Dann brought against the Village of Poland PD over at Lincoln Logs.
Family Dog Saves Toddler Playing on Roof
We'd like to see a cat do
this
.
AP Staff Writers: Not Very Bright
Can you find the error in this article in this morning's Enquirer, which comes to us via the Associated Press? It is about renovations to the library at Ohio State.
For at least the next three years, English majors wanting to read an original "Don Quixote de la Mancha" by Miguel de Cervantes will have to drive to the warehouse, where books are retrieved from towering shelves.
Weeeeeeeeee!
July 17, 2006 12:58 PM
Look who snuck out of the G8 early for a little ridey ridey! It's Bush and Vlad and Condi and whoever her counterpart is. Doing doughnuts in St. Pete!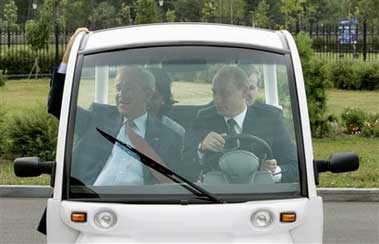 Russian President Vladimir Putin (2nd L) drives U.S. President George W. Bush (from L-R), Secretary of State Condoleezza Rice and Secretary of Russia's Security Council Igor Ivanov in an electric micro-car at the site of the G8 summit outside of St Petersburg July 15, 2006. (ITAR-TASS/PRESIDENTIAL PRESS SERVICE/Reuters)
Fun!
Bush: Tell Hezbollah to "Stop Doing this Shit"
A supposedly turn-off microphone picked up the President speaking privately to Tony Blair at the G8 Summit this morning.
Wasn't it just a week ago that Time ran this cover?
Why yes, we believe it was. It appears that last week's lefty wishful thinking does not fit with facts. Time should be embarrassed, but we doubt they will be.
Maybe they need to "stop doing this shit" too?
Barbaro Takes Turn for the Worse
July 13, 2006 11:54 AM
Well, it looks like Mrs. NBS will not be going with us to Keeneland ever again. She was furious about this situation before. Wait until she hears this: A severe infection has set in Barbaro's right hind leg, and 80% of the hoof has been removed.
The prognosis is not good. They are planning on keeping him alive for now, and putting him down if he is in pain. Sad news.
UPDATE: Barbaro is reportedly doing better today.
Harriet the Spy or I Spy Harriet?
A friend of NBS emails this morning from D.C....
Guess who I saw last night??? I went over to a friend's in Crystal City (I HATE that name). When I walked in to the lobby of his building, the elevator dings and out walks America's Second Favorite former Supreme Court Nominee (after Bork) -- Harriet Miers!!! I asked my friend about it, and he said that she lives upstairs from him. Very strange, because this guy's condo is a studio and not all that nice. But, Harriet's a simple gal so I guess it suits her just fine. She "should" be living somewhere fancy on the hill I would think. Apparently "Duke" Cunningham lived in the building as well.
WOW. Further exchanges with our correspondent reveal:
It was definitely her. She was shorter than I thought she was. She was wearing a simple gray business suit, skirt to her knees. I said hello, and she responded the same -- perhaps flattered that the look in my eyes seemed to indicate that I actually "knew" who she was, unlike 96% of the U.S. Senate.
What a brush with fame! Which it occurs to us is an apt description not only of our friend's sighting of Harriet, but also of Harriet's entire career.
Paris Hilton: Future Right Wing Heroine?
Well this is at the nexis of right wing conservative politics and pop culture... So it is right up our alley here at NBS. Katherine Jean Lopez, writing in The Corner at National Review Online predicts:
I will continue to (yes, oddly) contend that one day Paris Hilton will prove to be a friend and ally to pro-abstinence, anti-abortion types. My basis for the assumption is currently a weak one, but time will tell.
WTF? Do wha? Yes, K-Lo, that IS an odd contention. It is based on what, precisely? I mean, don't get us wrong. We love our conservative causes. And we love Paris Hilton! It's just we never really assumed we'd get to love 'em together.
All of this pertains, of course, to Paris's recent announcement that she is going to give a shot at celibacy for the next year. Thanks for sharing, Paris! But K-Lo, it is not like this means a Heritage Foundation fellowship is the next step for Paris! No. We tend to agree more with A Socialites Life on this one:
Paris Hilton has recently decided to forego sex for one year, in order to "rediscover" herself.

That seems a bit extreme. How about just keeping pictures of your vagina out of the news for a year? That seems like a daunting enough task.
Indeed. We need to start our little Paris out with baby steps, K-Lo. Baby steps.
Ohio Urn and Learn
Well! Things are getting ugly in Ohio politics over the whole casino gambling issue. For those who haven't been following along, here's the deal. We do not have legalized casino gambling in Ohio. We do have race tracks (not that we ever go to the ones in Ohio, nor does anyone else we know), but anyway, we have them. As happens somewhat regularly, the issue of legalized gambling has come up again. It is currently unconstitutional in Ohio, per the terms of the rather crappily written and much amended Ohio Constitution.
So to change things, and get a casino gambling in Ohio, we will have to have a constitutional amendment. A group has formed to do that, and has put together a good head of steam. Not, mind you, because of grassroots support, but because of out-of-state gambling interests who want to tap into the Ohio market. They have formed a grouped called "Ohio Earn and Learn," which has put together a ballot amendment to change the Ohio Constitution to allow casino gambling, and direct a chunk of the proceeds towards education.
All of which is fine, at least in principle. We have no objection to fair profits or educational funding from non-traditional sources (i.e. individual taxpayers).
The problem is that the group behind Earn and Learn are the owners of the Argosy Casino in Indiana--a short drive from Cincinnati, and a popular destination. In order to protect their interests in Indiana, Argosy/Earn and Learn has specifically excluded Cincinnati as one of the locations that will be chosen for slots and/or casinos. Cincinnati is the only one of the three major cities in Ohio to be excluded this way.
Some Cincinnatians--NBS included--take exception to out-of-state gambling interests dictating policy in Ohio. Especially when it will exclude the city we love from the windfall profits associated with having legalized gambling here. We could use that money for a new jail. Or to off-set tax breaks! Or, just to draw people into downtown, to spend money at our terrific restaurants, and revitalize retail shopping.
But anyway, we don't mean to bore our out of state readers. This is all merely the background you will need before we start regailing you with amusing tales of hypocracy and outlandish behavior.
Stay tuned!
Dear Jennifer R...
July 12, 2006 11:42 PM
Dear Jennifer R., Meraux, Louisiana,
We were so excited when we read "Tales from the Scales" on the back of our Lean Pockets box. Your story of triumph via a diet of Lean Pockets is a source of inspiration. We especially appreciate this little morsel--no, not a morsel of the all new low fat Four Cheese Pizza lean pocket (delicious as they are)--but this morsel of advice:
Losing weight has made a lot of things easier--like tying my shoes.
Thanks Jennifer R.! Those are words to live by! We can't believe you lost 160 pounds, like the box says! Apparently, neither can the Lean Pockets people, since they added a footnote to your letter that says "results are not typical. Your loss if any will vary." But what the hell do they know? We can't believe they "do not endorse the diet Jennifer created" as the teeny-tiny font says. After all, they put your letter in much bigger letters, and it is accompanied by before AND after pictures! You look great! So, we put our trust in you. And a diet of Lean Pockets!
PS: Chicken Fajita is our favorite flavor too! YUM!
Victoria Wulsin Claims She Is "Dead Even" With Our Jean
In political news, Victoria Wulsin's campaign has announced they have conduced a poll that shows she is dead even with our beloved congressional catfight winner Jean Schmidt.
Even the Daily Kos is all excited, raising false expectations among their blogospheric left!
We at NBS would like to issue an invitation to liberal democratic activists and supporters: Please, please start sending money to the Wulsin campaign. Just remember, every dime you spend here is money that could be spent somewhere else. So it just might as well go for a race in a district that is overwhelmingly Republican. Makes no sense to try with those marginal seats. You can't win without a 50 state strategy!
In case you can't tell, we are trying to be cute. Failing at it perhaps, but trying nonetheless.
But the bottom line and the God's honest truth is this: we love Jean, and her values reflect those of this Congressional District. You may not like it. You may not believe it. But it is true. If you think this is a winnable seat--and you believe Wulsin's poll (despite the fact that this race is not on the DNC's list of potentially winable races)--have at it. Welcome to Ohio! Spend as much time and money here as you can. We are glad to have you!
HGTV Dream Home Turns into Nightmare
Here is the picture of the home Don and Shelly Cruz won in HGTV's Dream Home Sweepstakes. At 6,000 square feet, it has a "massive great room with 30-foot ceilings," a six-foot-wide fireplace, a master bedroom suite with a hot tub, an indoor elevator, an outdoor pool with fireplace and a dock/guest house--and every other furnishing and amenity available. The Cruzes also won $250,000 in cash, and a GMC Denali.
Not a bad prize! But, not all is well with the dream home. Not only are the bulbs burning out in the Great Room (they'd need scaffolding to replace them), they also got hit with a $672,000 tax bill on their winnings. And, it turns out they don't own the land the house sits on--they just have a 30 year lease with the option to renew. And on their income, there is no way they can keep up with the expenses. They have tried to put the home on the market, but no one is interested in a house that size in rural Texas. It turns out the Cruzes are the only winners in HGTV's 10-year long Dream Home program who have actually tried to live in the house. Money Magazine weighs in on how they can get out of the mess. Money's conclusion is that it cannot possiblely work financially, and the Cruzes will have to move.
We have to admit though, it would be tough to give up the dock house:
Much more tasteful than the main house... Maybe they could just live there?
NBS is not a bad writer. Again!
The results of this year's Bulwer-Lytton Fiction Contest have been announced. As always, we tuned in for the results, which, like a pocked pre-teen tuning in for the finale of "American Idol," (after having himself been unceremoniously dismissed from the contest, not by the judges, or by the vote of his fellow Americans, but by the show's producers, in the "you're not even good enough for people to laugh derisively at you" phase of the contest), NBS regards with a combination of jealously and joie de vivre.
In case you hadn't guessed--and are still with us--the Bulwer-Lytton Awards are the Oscars of bad writing. They are awarded annually in honor of Edward George Bulwer-Lytton, the Victorian writer who famously coined the phrase "It was a dark and stormy night..."
But anyway, on to the winners. Our favorite entry this year comes in the Romance Category, and was crafted--no, hewn--by Dan Winters, of Los Altos Hills, California:
Sex with Rachel after she turned fifty was like driving the last-place team on the last day of the Iditarod Dog Sled Race, the point no longer the ride but the finish, the difficulty not the speed but keeping all the parts moving in the right direction, not to mention all that irritating barking.
Irritating, indeed! But still, no where near as good as our all-time favorite, "crafted" by the winner in 2003, Mariann Simms, of Wetumpka, Alabama:
They had but one last remaining night together, so they embraced each other as tightly as that two-flavor entwined string cheese that is orange and yellowish-white, the orange probably being a bland Cheddar and the white . . . Mozzarella, although it could possibly be Provolone or just plain American, as it really doesn't taste distinctly dissimilar from the orange, yet they would have you believe it does by coloring it differently.

Literary nerds deserve each other...
July 10, 2006 10:02 PM
We loved this post from Craigslist's "Lost Connections." It reminded us (sniff, sniff) of our own college days, and the crazed enthusiasm involved in thinking Henry Miller and Anais Nin were actually good writers and not simply sluts. "It's not porn if it doesn't have pictures!" is basically the rationale.
But anyway, these two must find each other, ASAP. One can never be too young to be disappointed.
I was reading Anais Nin.. You were reading Henry Miller - w4m - 23

---

Reply to: pers-179575558@craigslist.org
Date: 2006-07-07, 10:10PM EDT


I looked up from Little Birds, to catch your eyes on me from over the copy of Tropic of Cancer. I am sure I blushed from the implications of our coincidental literary rendezvous. There was a glint in your eye, a glimmer of mischief, knowing what brought that red to my cheaks. You know all about their sordid affairs, don't you? Knowledge like that could really come in handy. We should spend some time discussing it. Perhaps dinner at a sidewalk cafe? Perhaps a night of it.

I am sure you catch my meaning, my handsome Henry Miller fan.
If you know either of these two poseur lovebirds, email them STAT!

Oompa Loompa doompety-do
I've got a Congressional Candidate for you.
This John Cranley, a Cincinnati City Councilmanperson. He is running for the First Congressional District here in Ohio, against Steve Chabot.
The only good thing about him is he makes NBS look like John Wayne.
"Son of a Terrorist Whore"
Apparently that is what soccer (yes, we said soccer) superstar Zinédine Zidane was called prior to his now infamous decision to violently head-butt a member of the opposing team (at least according to a lip reader hired by the Times of London).
Exactly how is that more offensive than simply being called "French?"
But seriously, we do think the Italian player was in the wrong. The French are NOT terrorists. They are terrorist appeasers. There is a huge difference!
If NBS had been on the opposing team, our taunt would have been much lengthier, and concluded with, "and we STILL remember how vous ne lettez pas nous utlisisons le French airspace to attackez Muamar Quadaffi! Foo-twa!"
What are you looking at?
July 5, 2006 05:56 PM
Here's a photo of Pamela Anderson vacationing in Saint-Tropez over the weekend with Kid Rock.
Now, do you think his eyes are (A) closed, due to an alcohol and drug induced coma, (B) staring, as Pamela is, at the intrusive photographer, or (3) all over her PETA-loving ass?
Where the Boys Are...
Blogospheric tongues were wagging this weekend after Kevin Osborne (a paid journalist, formerly of the Post, and now of the lefty local rag CityBeat), posted over at Porkopolis the details of Mayor Mallory's recent vacation (or, perhaps more aptly, "vacaaaay") to Ft. Lauderdale with "a friend." Apparently a gawking citizen snapped a pic of the Mayor flying out of CVG last weekend for a trip to Ft. Lauderdale. This pic was forwarded on to Kevin, who wrote a totally uninteresting piece about how the Mayor was ducking out of town for a vacation, and that this necessitated some schedule changes at City Hall.
And yet, tucked at the back of the column was this paragraph, about the Mayor's destination:
Located about 45 minutes north of Miami, Fort Lauderdale is perhaps best known as the locale for the 1960 cult classic film, Where the Boys Are, based on the popular Connie Francis song.
This touched off mild firestorm on the web, as various commentators tried to guess, what exactly, Kevin could be intimating about our confirmed-bachelor/well-dressed, clothes-horse of a Mayor. And, why Kevin Osborne, in particular, included a reference to "Where the Boys Are." We suspect that Mayor doesn't particularly care about the comment, but may not necessarily want to see such references in print. We wonder if that irks Kevin enough to be nasty? Or is he just trying to be cute?
At any rate, NBS couldn't help but notice when we picked up the print edition of CityBeat during lunch today, that the "Where the Boys Are" paragraph--for some reason--did not make the print edition of CityBeat Porkopolis column. Maybe an error at the printer?
The New York Times: Defending the National Interest Since 1775
Circulating among the conservative cognoscienti (i.e. bloggers) today is this image, from the April 17, 1775 edition of the New York Times:
In Celebrity News...
July 3, 2006 12:27 PM
Mary-Kate has a new man in her life. Hopefully she is not relying on him to teach her about healthy diet and exercise.
Mary-Kate, when the doctors told you to pack on the pounds, this is not what they meant. Seriously. They were talking about the combination of eating sometimes, but not not eating all the time. It is not a one-or-the-other proposition kids.