« Previous · Home · Next »
Weeeeeeeeee!
July 17, 2006 12:58 PM
Look who snuck out of the G8 early for a little ridey ridey! It's Bush and Vlad and Condi and whoever her counterpart is. Doing doughnuts in St. Pete!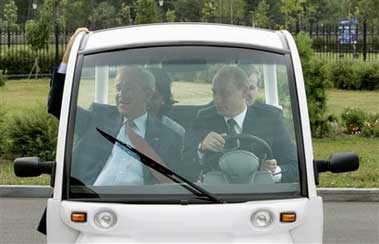 Russian President Vladimir Putin (2nd L) drives U.S. President George W. Bush (from L-R), Secretary of State Condoleezza Rice and Secretary of Russia's Security Council Igor Ivanov in an electric micro-car at the site of the G8 summit outside of St Petersburg July 15, 2006. (ITAR-TASS/PRESIDENTIAL PRESS SERVICE/Reuters)
Fun!
Comments
Post a comment