November 2006 Archives
« Previous · Home · Next »
Happy Birthday to NBS's Cousin*...
November 30, 2006 07:35 PM
...and one of the few people we consider a hero.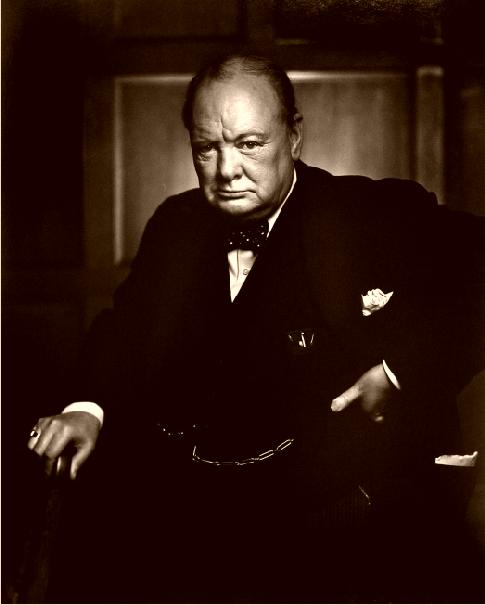 Born November 30, 1874.
*via the family of his American mother, Jennie Jerome. Surely you knew he was half American? He credited the American blood for the fire in his belly.
HAT TIP: to the Llama Butchers, for reminding us of this special day.
What to make of this exchange between the President...
... and James Webb, the newly elected junior Senator from Virginia:
Democrat James Webb declined to stand in a presidential receiving line or to have his picture taken with the man he had often criticized on the stump this fall. But it wasn't long before Bush found him.

"How's your boy?" Bush asked, referring to Webb's son, a Marine serving in Iraq.

"I'd like to get them out of Iraq, Mr. President," Webb responded, echoing a campaign theme.

"That's not what I asked you," Bush said. "How's your boy?"

"That's between me and my boy, Mr. President," Webb said coldly, ending the conversation on the State Floor of the East Wing of the White House.
Ann Alhouse thinks it "compliments neither man." George Will thinks Webb was grossly offensive and rude.
I think Webb was definitely being rude, and the President was just being brusque in the face of rudeness. It is perfectly okay--indeed, a kind gesture--to ask someone how their son is doing if they are serving in harm's way. Especially if the President is the one who is doing the asking. To give a political response in the context of this private conversation is rude. Especially when you follow up by saying that your son's welfare is not of the President's business.
Maybe the President's question hit a little too close to home, because the Senator's son doesn't actually want to come home, and thinks the work he is doing is important? Perhaps the Senator thought the President's question was too personal, because it pertained to a family dispute?
Who knows? I certainly have no idea if Senator Webb's son wants to come home. But a difference of opinion between father and son is the only explanation I can come up with to defend Senator Webb.
They're not "cages"...
November 29, 2006 09:28 AM
...they are "enclosed beds." So says Ken Myers, attorney for the parents in Northern Ohio who drew those big headlines earlier this year, for keeping their 11 adopted special needs children in cages enclosed beds.
Ken Myers, you win the NBS award for most creative legal spin of the week. Way to slap the lipstick on the pig!
This Just In: Wulsin Conceited
November 28, 2006 12:42 PM
Whoops! I mean conceded.
Yes, weeks after the election, Victoria Wulsin has finally thrown in the towel. Everyone else is putting up their Christmas lights, and she's just now getting around to announcing what was mathematically obvious the day after the election: She did not get enough votes to win.
If she thinks she did herself any favors by dragging things out this long, she's wrong.
How does it help the Republican agenda...
... to provide quotes such as this to the press?
"With the incoming Strickland administration, I think you are going to find a lot of support in the executive branch and the legislature to do what's right for Ohio's children," said state Sen. Gary Cates, R-West Chester.
Gary, Gary, Gary. Think before you speak. A Republican administration would do what's right for Ohio's children, too! It doesn't sound like you believe that.
NBS Does Maine
November 27, 2006 11:27 PM
As promised, here is the NBS attempt at photoblogging Maine.
First up, we have "The View From My Window," to quote Andrew Sullivan. This is a shot from the window of our digs, which were literally on top of Camden Harbor. This is looking toward the head of the harbor:
I love how they got the level right when it comes to the windows, but not on anything else. Plus: red building and a green boat. Can you tell NBS is feeling Christmasy?
This is from the same location, but looking out from the Harbor, onto Penobscot Bay:
This photos were taken on Sunday morning, the only day it was cloudy. We never did see the seal that will sometimes swim into the harbor.
Until this time last year, I had never been to Maine, and I never appreciated just how many bays, harbors and inlets there are. Just about every one of them has a light (the locals call them lights, not lighthouses, as we do here in the Midwest).
This is Owl's Head Light, which is near Camden:
The accompanying house is actually a little bit further down, and is not located right on the windy cliff. Here's a picture of one of the outbuildings:
And here is the what the family who lives there sees every night when the sun sets:
Not bad, hun? It would be chilly and lonely though. Keep telling yourself that.
On Saturday, we took the ferry over to Isleboro, a beautiful island with about 800 year round inhabitants--probably much, much more during the summer. From the looks of the place in November, one would guess that number of year-rounders is closer to 150. Isleboro is about a 20 minute ferry ride from Lincolnville Beach. We were warned to make it back to the dock on time, and make sure we got there well in advance of the last ferry--or risk being stuck overnight on the Island. If there are more cars in front of you in line for the ferry than they have room for, then you're just out of luck. Fortunately, this happens in the summer much more often than late fall, and we made it back just fine.
This is a picture from the public park on the southern end of the island:
The locals consider that to be a "beach." I'm not sure if anyone actually goes swimming there or not, even in the height of summer. It looks pretty darn cold. That's a small island in the foreground, and you can see the mainland behind that.

This is a photo of the light on Isleboro, all decorated for Christmas:
They don't get too tacky with the Christmas decorations up on Maine. A wreath is plenty, thank you. That attitude is refreshing. As was the community Christmas tree in Rockland, which is decorated with lobster traps. My picture of the Christmas tree didn't turn out too well, as it was taken from a moving car. Someday I'll learn not to bother.
But back to Isleboro. Close to the light on Isleboro is a small stone structure called the "sunset pulpit." From it, a preacher could stand so the setting sun is over his shoulders, and the sun is slowly falling behind him, until it sets behind the mountains on the mainland. The pulpit is inscribed, "I will lift up mine eyes, unto the hills, from whence cometh my help." For what was going through my mind,
click here
, and then select No. 6, which is Kings College choir's take Psalm 121.

It was stunningly beautiful. If you haven't been to Maine, go.
You know your Great Aunt Eunice?
The elderly spinster with a bunch of cats? And stock certificates hidden all over the house? You know, dear old Aunt Eunice, who has no one to leave all that money to, but you?
Do not tell her about Ohio's new law governing estate planning for pets:
When a new law takes effect Jan. 1, pet owners will be allowed to set up trust funds to care for their pets should the owners die or become incapacitated.
Really! It's getting harder and harder to inherit money the old-fashioned way. This is going to screw up the plans of many a WASP. NBS readers, you'd better drop by the ancestral pile today, and make sure your Aunt Eunice knows how much you love her. And her wonderful, beautiful cats.
Where in the World is NBS, No. 3
November 22, 2006 11:20 PM
NBS is braving holiday travel, and heading off to Maine, for a nice romantic weekend with Mrs. NBS. And her parents. Should be a wild time.
That's the Portland Head Light, in Cape Elizabeth. We'll actually be heading further north, to Camden, home of the prettiest harbor in New England. We plan to eat some lobster, drink some a lot of wine, hit the L.L. Bean store in Freeport, and say hi to the Belted Galloways.
We'll be back with regular programming on Monday. In the meantime, posting will be light. Hope your Thanksgiving is filled with family, good food, and as few airport freaks as possible. Gobble Gobble.
Williams College Drops Diversity Requirement
Well, well, well. If blogs had existed 10 years ago, you would have heard a lot about this from NBS. That was back when NBS was editing the conservative student newspaper at a college that was fixated on the U.S. News and World Report rankings. The college leadership wanted Sewanee to be like Williams or Amherst, and thought that by mimicking academic fads at other schools that were supposedly more elite, Sewanee's prestige would rise. We had a field day making fun of Sewanee's Vice Chancellor for buying into such shoddy thinking. He even declared in our pages that he wanted Sewanee to be more like Williams because Williams was the No. 1 ranked school in the country. We pilloried him for saying that. I believe our point was that institutions of higher ed should be true to themselves, stick with teaching, and not jump on every bandwagon that came flying round the bend.
It was a crazy, youthful theory, I know.
One of the fads that Sewanee became quite obsessed with was "diversity." Which is a fine idea in theory, but seldom in implementation. Sewanee's ideas about diversity were pretty similar to Williams's,
The old system at Williams was pretty basic. Students had to take a course about a minority group or a non-Western group. Anything that met that basic criterion could count, and got a "people and cultures" asterisk. "It was a good idea. It grew from nice liberal white guilt," but it stopped being effective some time ago, according to Christopher Waters, a history professor who is overseeing the new system.
Never mind that decisions about what kind of curriculum a school offers should not be based on guilt. Especially not "liberal white guilt." Or that fact that ten years ago, no liberal academic admitted that the motivating factor for diversity requirements was "liberal white guilt." When conservatives pointed this out, we were accused of being racists.
At any rate, now Williams has recognized just how anti-intellectual the notion of "diversity" really was:
"This requirement was seen as a joke," Waters said. "We were sticking things with the asterisk without a solid intellectual justification. I think a lot of our international students wondered what on earth this was about, and many of our non-white students viewed it as tokenism. Why would our minority students need to take such a course?" (A series of articles and editorials in The Williams Record, the student newspaper, reflect widespread student frustration with the requirement — regardless of students' ethnicity or politics.)
Precisely the argument conservatives were making 10 years ago!
Edward Burger, a professor of mathematics who was chair of the Committee on Education Policy, the faculty body that led discussion of the changes, said that the old system was premised on the idea that Williams students were white. "It identified us. It said, 'we're white guys who are now taking courses to learn about people of other colors.' At its core, that's very racist if you think about it."
Yes. You read that right. Williams has decided it's diversity requirement was, in fact, racist. I wonder if other schools will come to the same conclusion?
Keep in mind that Williams is still the No. 1 College in the country, and others will follow their lead. Is the "diversity" mania over?
HT: National Review Online's Phi Beta Cons Blog
NBS Housekeeping Notes
You may notice we've updated the blogroll. We've cut those we never read anymore, or the ones that are not updated frequently enough. And, we've added some new folks. We highly recommend all the blogs on the list, even the lefty ones.
A few readers have asked about the black dots that appear alongside the blogroll list. They indicate that someone on the blogroll has posted a new entry recently. Obviously it doesn't work with the major media outlets that are listed. But it is a helpful tool for the blogs.
Others have asked about the NBS sidebar. Yes, we pretty much never use the "Categories" and we probably should. At some point, we'll go back through and categorize everything. That's on the list of fun things to do, right with running spell check all the entries, since we just recently figured out how to do that. As for the "Subscribe" section... somehow that allows you to subscribe to NBS. We really have no idea how that works.
And lastly, some folks have noticed that we're now switching back and forth with our pronouns. Sometimes it's the NBS royal "we" who is speaking in third person, and sometimes it is just "I." We're just experimenting, to see what it's like if we ever drop the whole anonymity facade. If you find the inconsistency too distracting, drop us an email.
And, as always, thanks so much for reading NBS.
"It's a long-standing tradition here at Nordstrom's not to decorate until after Thanksgiving"
...so says Deniz Anders, Nordstrom spokeswoman at the Seattle headquarters.
What an excellent tradition!
Turkey Timer Pops on Wulsin v. Schmidt
November 21, 2006 11:43 PM
Well the Associated Press has finally called the results of the election here in OH-02. Jean Schmidt has won, despite her opponent's refusal to concede. Yes, Victoria Wulsin has insisted since election day that she will not concede until all the votes are counted, including the provisional votes. Typically, these are the votes cast when someone fails to show up at the poll with proper ID, or when someone shows up at the wrong poll.
So the county boards of election are now counting the provisional ballots, using a painstaking process to try to figure out which of the provisional ballots were actually cast legally. Thus far, the results show that Jean Schmidt's lead is increasing--enough so that the AP has finally called the election.
And yet, Wulsin refuses to concede. Every vote must be counted, she says. And she's right, every vote should be counted. But when the results clearly show that you will not win, the classy thing to do is to call your opponent, congratulate them on a well-fought campaign, and then concede. You don't have to be sincere when you call your opponent to congratulate them. But you do have to fake it. And, you have to be charitable in public and with the press, for at least a week or so. It's what Americans do when they lose elections.
So Dr. Wulsin, I suggest you heed this advice: It has reached the point where you are seriously jeopardizing your reputation as a less-than-nutty Democrat.* And you're not doing the electoral process much good, either. It is time to do the right thing. Give Jean a call. Issue a statement. And be done with it.
*I have spoken to many people who know her, who think she's quite nutty. That's not her reputation with the public, though.
A little something for underneath the tree?
Who thought up the Dora the Explorer Aquapet?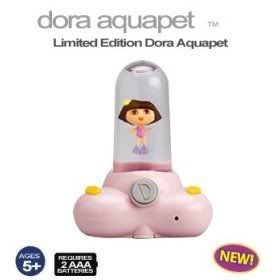 I mean really. Who?
And who wrote the ad copy?
Talk to her!
Laugh and play together!
Share your secrets with her!
Give her love!
Discover her songs and dances!

She also plays and interacts with the Boots too!
Have an adventure with Dora the Explorer, your interactive friend!

Over at the Cincinnati Black Blog...
...Nate Livingston really, really doesn't like Councilwoman Leslie Ghiz. His topic (supposedly) is Leslie's recent article in Cincinnati Gentlemen, in which she takes on Mayor Mallory's inexplicable lack of interest in getting things done.
But Nate's argument kind of goes off the rails:
Oh brother! Ghizzy is one of those people who feels like she has to build herself up to tear other people down. SHE is honest. In fact, she is sooooo honest that it's her worst quality. She simply cannot tell a lie. Bitch, please!!! Ghizzy voted to instruct the City Manager to put 1.5% of the budget (about $4.5 Million) into social services. He didn't do it. Ghizzy hasn't done anything to make sure that money gets put back into the budget. She lied to the 300+ people who attended the meeting wherein she cast that vote. (Ghizzy and others want to be able to say we voted to make social services a budget priority, blame the City Manager for not doing what we said.) And Ghizzy talked a lot of shit about the marijuana ordinance, then turned around and voted for it. Ghizzy criticized the Roger Owensby, Jr. settlement, then voted for it. Ghizzy has said she won't vote to pass a budget that doesn't include $6 Million for a new jail. We shall see. The point: Ghizzy isn't as honest as she pretends to be.
Well! We're going to have to think about using "Bitch, please" the next time we formulate an argument. There's more of the same over at his blog, if you're interested.
As for NBS, our take on Leslie's recent criticisms of the Mayor can be summarized in one sentence:
Thank God she's finally criticizing a Democrat, and not undermining her own party. For once.
Okay, so it's two sentences.
I know you are but what am I?
Conservative, that's what. Yesterday, the big news (ignored just about everywhere, but here at NBS) was John McCain's flip-flop on Roe v. Wade. So what were his '08 competitors saying yesterday, in response?
Sam Brownback says he's the true conservative.
And Mitt Romney says, no wait, it's me, in article that has been linked by the Drudge Report. The article is getting so many hits that the Washington Examiner's server is down. We'll try to get the link up later today.
UPDATE: Here's the link to the Examiner article. In it, Romney counts the ways he is more conservative than McCain and Giuliani:
"We're in a different place on immigration; we're in a different place on campaign reform; we're in a different place on same–sex marriage; we're in a different place on the president's policy on interrogation of detainees," Romney said.

"I'm a conservative Republican, there's no question about that," he said. "I'm at a different place than the other two."
Splitting Hairs or Splitting the Baby?
November 20, 2006 04:23 PM
What was it NBS said just last week about John McCain? Was it something about how the Republican Presidential candidate in '08 had to be pro-life? Yes, I believe it was. Well, look here, at John McCain talking about Roe v. Wade during the 2000 presidential campaign:
But certainly in the short term, or even the long term, I would not support repeal of Roe v. Wade, which would then force X number of women in America to [undergo] illegal and dangerous operations.
Yes, that's a "no" on reversing Roe, "in the short, or even the long term." As that article points out, though, this statement was a flip-flop from a statement that he'd given just the year before. At that point, McCain had answered "yes" when asked if he supported the reversal of Roe. But when he ran for President in 2000, however, he was a "no" on reversing Roe.
As of yesterday, he's flip-flopped back to "yes" on reversing Roe. Just in time for his '08 bid. Here he is on This Week With George Stephanopoulos:
MCCAIN: ...I do believe that it's very likely or possible that the Supreme Court should — could overturn Roe v. Wade, which would then return these decisions to the states, which I support.

STEPHANOPOULOS: And you'd be for that?

MCCAIN: Yes, because I'm a federalist. Just as I believe that the issue of gay marriage should be decided by the states, so do I believe that we would be better off by having Roe v. Wade return to the states. And I don't believe the Supreme Court should be legislating in the way that they did on Roe v. Wade.
Does he think he'll appeal to the base of the party by switching back? Does he think no one will notice, or does he want us to? My guess is that he wants conservatives to notice, but not the media. And, he wants to be firmly flipped back to the reverse-Roe camp well before '08, when yet another flip-flop on abortion isn't as newsworthy.
HAT TIP: the lefties at Think Progress.
Photos from the Apec Summit in Vietnam
In 1993, Bill Clinton gave out leather bomber jackets at the first Apec summit in Seattle. Now the tradition is that the world leaders all dress up in the host country's traditional attire.
This is what the tradition has lead to:
Photo credit: Wonkette via NYT via AP via Canadian Press
Were there any good ideas that came out of the Clinton administration? Clearly, the implications of the bomber jacket idea were not well thought through.
Top Dem Seeks to Reinstate the Draft
I had thought this was just a sop to the liberal base, that Charlie Rangel (D-NY) trotted out before the election. I can't believe he's still talking about it.
Yes, he wants to reinstate the draft.
His theory is that it will deter politicians from starting wars. Won't it just deter politicians from defending the U.S.? Wouldn't a return to mandatory conscription be a disaster for our all-volunteer, professional military?
UPDATE: Michelle Malkin is all over this story, saying it is giving her flashbacks of 2004, when top Democrats (Howard Dean, Max Cleland and John Kerry) spread rumors among college students that Republicans would bring back the draft. But the only people seriously talking about bring back the draft are Democrats!
Unfortunate headline of the day...
November 17, 2006 03:56 PM
"In Her New Congressional Temp Job, DeLay's Replacement Wants Her Staffers Probed"
From NYLawyer, registration required.
Good News Friday...
Mitch McConnell was elected Senate Minority Leader this week. Last night, he had this to say to the Federalist Society:
Forty-nine is not a bad number of Senators to have, in a chamber that requires sixty to control. And I can assure you that our Democratic friends will give President Bush's judicial nominees a floor vote - if they want to get anything done, in a chamber that requires 60 to control.
Mitch McConnell is already doing more as minority leader than Bill Frist was willing to do as majority leader.
Greg "Big Rock Candy Mountain" Harris to Run for City Council
November 15, 2006 11:40 PM
CityBeat also is reporting that Greg Harris--the liberal Democrat who lost to Steve Chabot in 2004 and 2002--is planning to run for Cincinnati City Council. His platform?
"I would love for Cincinnati to become one of the greenest cities in America, including more brownfields re-development and connecting Cincinnati's core to our region's network of recreation trails. I think the Freedom Center can be better utilized to catapult Cincinnati as a heritage tourism hub that allows for immersion into the history of abolitionism and the Underground Railroad but also a site for the ongoing fight for human rights. I would love, for instance, to see an annual African American Theater Festival on the riverfront devoted to these themes. I also see a strong need to create a seamless public transit grid to unify and support the emergence of a central entertainment corridor that unifies The Banks, downtown, Over-the-Rhine, UC, Clifton, Northside, etc."
As the Cincinnati Black Blog says: "Oh brother!"
But what does Greg Harris's dream remind a whitey like NBS of? The lyrics to "Big Rock Candy Mountain," which NBS was forced to sing in elementary school. We did not know then that it was the "progressive democrat" platform.
Sing it with us...
In the Big Rock Candy Mountains, there's a land that's fair and bright,
The handouts grow on bushes and you sleep out every night
Where the boxcars all are empty and the sun shines every day
On the birds and the bees and the cigarete trees,
The lemonade springs where the bluebird sings
In the Big Rock Candy Mountains

In the Big Rock Candy Mountains, all the cops have wooden legs
And the bulldogs all have rubber teeth and the hens lay soft-boiled eggs
The farmer's trees are full of fruit and the barns are full of hay
Oh I'm bound to go where there ain't no snow
Where the rain don't fall, the wind don't blow
In the Big Rock Candy Mountains
Yep. That just about summarizes Greg Harris's pipe dream for Cincinnati. If only they had known about light rail in the 1920s, when the song was written. It surely would have made it into the "Big Rock Candy Mountain" lyrics. Light rail and Greg Harris's plans for the Freedom Center are about as realistic as bulldogs with rubber teeth and hens that lay soft boiled eggs. "Oh brother," indeed.
Winton Place no more?
Well this is something that truly makes the heart sad. CityBeat reports of the efforts underway to drop Winton Place as one of Cincinnati's official 52 neighborhoods, and rename it "Spring Grove Village."
Appalling and sad. Especially because Republican Chris Monzel is leading the effort. Chris, you are officially on the NBS shit list.
NBS's own grandmother grew up in Winton Place, and is always ready with a great story about growing up there. It always seemed like a charmed existence, growing up with 10 brothers and sisters (yes, they were Protestants! Episcopalians, even!) in a nice neighborhood, where everyone knew and watched out for each other. And yes, she walked all the way to Hughes High School, which was the closest [for non-local readers, Hughes definitely is not within what would normally be described as walking distance of Winton Place]. Winton Place was, and is, a great neighborhood.
Now there's some much crime in Winton Terrace (which is a housing project) that some folks want to change the name of Winton Place for PR purposes. And name it after a cemetery, no less. What the hell? Why not rename the housing project? It was named after the neighborhood.
But no. That would make too much sense. According to Chris Monzel,
"For us we're trying to establish an identity," Monzel says. "This has more to do with marketing who we are and trying to build on that history that we have. When people ask me where I live and I say Winton Place, they say, 'Where is that?' I say, 'Next to Spring Grove Cemetery.' Everybody knows where Spring Grove Cemetery is."
How depressing, short-sighted and inane! Abandon your history for marketing purposes? And dropping a delightful neighborhood name like "Winton Place" for the clunky "Spring Grove Village." Disgusting! Shame on you, Chris Monzel!
Gallup Checks out the '08 field
November 14, 2006 09:31 AM
Here's the result of a poll of Republicans, and self-identified Republican leaners,
Giuliani 28
McCain 26
Rice 13
Gingrich 7
Romney 5
Frist 4
Allen 2
Pataki 1
Huckabee 1
Hagel 1
Brownback 1
My take is that Republican leaners are not Republican primary voters, and that Gallup has the whole premise of the poll wrong. Giuliani, McCain and Rice are all unacceptable to conservatives, and will not be nominated. There is an intense dislike (if not outright hatred) of John McCain among Republicans I know. McCain is the problem--not the solution. Guilini is at least funny and solid on defense, but is way too liberal on social issues. He's most likely to be someone's VP pick. Condoleezza Rice is wonderful on national security, but is not pro-life. The Republican Party will not--and should not--nominate anyone who is not pro-life. The big battle over the next year will be over the conservative base, as we see different candidates try to claim it. My guess at this point is that the nominee will either be Newt Gingrich or Mitt Romney. Sam Brownback would be great too, if he can raise his profile.
As for the Democrats and Democrat leaners, no surprises there:
Clinton 31
Obama 19
Edwards 10
Gore 9
Kerry 7
Biden 4
Clark 3
Richardson 2
Bayh 2
Feingold 1
Daschle 1
Dodd 1
Vilsack 2
They'd be fools if they nominate John Kerry again, so naturally, he's our guy for the Dems. If they want to win, they'll nominate Evan Bayh. But they'll never nominate Evan Bayh.
The Sea Turns to Stone
November 11, 2006 03:10 PM
A group of sailors near Fiji recently witnessed the birth of island, and have documented it on their blog.
We left Neiafu and Vava'u yesterday after some tedious checking out procedures and set sail for Fiji, passing the north side of Late island as first way point. After five miles we noticed brown, somewhat grainy streaks in the water. First we thought that it might be an old oil dumping. Some ship cleaning its tanks.

But the streak became larger and more frequent after a while, and there were rocklike brownish things the size of a fist floating in the sea. And the water were strangely green and "lagoon like" too. Eventually it became more and more clear to us that it had to be pumice from a volcanic eruption.
And they have the pictures to prove it:
And then we sailed into a vast, many miles wide, belt of densely packed pumice. We were going by motor due to lack of wind and within seconds Maiken slowed down from seven to one knot. We were so fascinated and busy taking pictures that we plowed a couple of hundred meter into this surreal floating stone field before we realized that we had to turn back. Just as we came out of the stone field and entered reasonably normal water we noticed that there came no cooling water from the engine. Not surprising, really. After cleaning the water filter the Yanmar diesel started again. Thank God! Without wind we would have been stuck in a sea of stone if the motor had failed. Next thing to check was the other water inlets. Some minor pumice particles but nothing serious. But the bottom paint were scrubbed away at places along the waterline, Maiken has an ablative paint so it was just doing what is supposed to do. Like we'd sailed through sandpaper. So, we headed back east to get away from the stony sea.
And when the did, they turned back, and saw that a volcanic island had appeared.
The rest of the sailors' pictures are available, here.
UPDATE: No, I don't know why the pictures appear sometimes, and sometimes they don't. If you want to see them, follow the links!
The New Look for Fall...
November 10, 2006 04:57 PM
... is really, really bad writing. Which you can get aplenty, over at FashionCincy.com. They even have a Mission Statement, (e.g. "to promote and accelerate fashion awareness in Cincinnati"), which is hysterical. Fashion Awareness? Hey you! Be more fashion aware.
And besides, didn't "Mission Statements" go out of style in 1995? Who has a Mission Statement anymore?
NBS just discovered they have added a few guys to their stable of writers. Check out Michael Altman's "September Editorial." The lede graph,
Trading a Reds tee-shirt for a Bengals' jersey doesn't cut it for fall fashion anymore in Cincinnati. As boutique clothing stores increasingly pop up around the city and suburbs, the message is clear: the Cincinnati man is fashionable and here to stay.
Well, that's certainly a relief. Fashionable and here to stay!
This fall will feature the return of the suit vest as the center piece, top Cincinnati male fashion enthusiasts are saying.
Cringe, cringe, cringe. Top Cincinnati male fashion enthusiasts? Let's not combine the word "top" with "male fashion enthusiasts," please. And, whenever a writer attributes something to what unidentified people "are saying," it kind of means that the writer just read it somewhere on the internet, and never actually asked anyone.
But back to the suit vest,
Along with it are coming a few changes that will let a man express himself at dinner, at the office, at the lunch meeting, and on the weekend.
Or while ordering a pretentious drink at Starbucks. Express yourself! Hey, hey, hey, hey.
Read the whole thing. It's worth it just for the hideous spelling: "Dolche & Gabonna." Is that like a knock off version of the Italian original, but made in Gabon for a lot, lot less?
But the worst part, by far, is the penultimate paragraph:
The story for the fall: a vest, some cool pants and a solid shirt will be key with your leather man-bag.
No one should ever write the words "leather man bag." Nor should a man ever carry one.
But those basics may prove too difficult, either in writing, or in life, because we are urged,
Don't think too hard. Have fun.
Don't think too hard. Have Fun? Shoddy thinking like that can only lead to leather man bags!
Trashing Huntington Bank...
...just because I can. What the hell is a blog good for, anyway?
I have been ordered to change my password. All I want to do is check my account balance. But no, Huntington won't let me do that until I change my password.
First, is there anything worse than being ordered to change your password? I have passwords for (1) cell phone; (2) work phone; (3) home security system; (4) checking account, online; (5) checking account, ATMs (it's the same damn account!), (5) retirement account; (6) email account; (7) blog access; (8) Lexis-Nexus; (9) the federal court docket; (10) the Ohio Bar Association; (11) computer login from inside the firm; (12) computer login from outside the firm; (13) firm security system, (14) health insurance and (15) a MasterCard account.
So the answer's no, I do not want to change any password. Ever. But Huntington make you change them periodically, just because they have flaws in their security system. Most banks do this, and my stupid workplace computer makes me do it monthly. Surely I am not the only person who resents this misuse of my time and brain cells?
So just having to change a password to begin with is bad enough. But Huntington doesn't stop there. They have to make it as confusing and time consuming as possible. Here are their instructions:
Leaving the user id field empty will reuse your current user id. When changing your user id, you must also enter a password.
Changes made to your password will take effect immediately and once submitted cannot be canceled.
User id must be between 7 and 12 alphanumeric characters (0-9, A-Z) in length.
Password must be between 6 and 8 alphanumeric characters (0-9, A-Z) in length.
Choose a password that is difficult to guess. To ensure maximum security, never share the password with others.
Your user id cannot be the same as your social security number.
Your user id cannot be some portion of your password.
Your user id must be alphanumeric (Aa-Zz and 0-1).
Your password cannot be any part of your social security number.
Your password cannot be some portion of your web user id.
Your user id and password must be alphanumeric (Aa-Zz and 0-1).
What moron wrote those instructions? Who can read that? Who has the time? Did it occur to them to run these instructions by consumers attached to blood pressure machines?
Huntington Bank: I do not want to change my f-ing password. I just want to know my damn account balance.
UPDATE: And one more thing: Don't you dare try to tell me this is all for my own protection.
Finally, some good news...
...the RNC has offered Ken Mehlman's job to Michael Steele. Michael Steele is very charismatic, and ran an excellent campaign for a Senate seat from Maryland. Take it away, Washington Times,
Mr. Steele is one of the most successful and respected black Republicans in the country. He served as the elected Maryland Republican Party chairman before running for lieutenant governor.

The White House, RNC and National Republican Senatorial Committee (NRSC) were pleased with what they called his tough but dignified performance as senatorial candidate in a liberal state that last elected a Republican senator in 1980. The NRSC had enough confidence in him as a candidate that it directed large amounts of money into independent expenditures on behalf of his campaign in the closing days.
Any Republican who runs a close race state-wide in a liberal state like Maryland is someone we need to hear more from.
He hasn't taken the job yet. Word is he may be holding out for a cabinet post. He'd be much more valuable at the RNC.
Tomorrow we will be magnanimous in defeat...
November 8, 2006 12:51 PM
...today we just have to agree with the awkward and unintentional sentiments expressed by Rick Santorum's pre-teen son.
Okay, okay. We're not that p-oed. We do think the photo's pretty damn funny, though.
When will Wulsin concede?
Victoria Wulsin is meeting with election lawyers this morning, and declaring that it isn't over until the absentee and provisional ballots are counted.
Meanwhile, Warren County officials have announced that between 2,000 and 3,000 absentee ballots will not be counted until November 21.
And no one seems to know how many provisional ballots there are.
The results as of right now have Jean ahead by 2,323 votes.
Steve Chabot and Jean Schmidt have prevailed...
... we need them now, more than ever.
Thank God for the sane people of Green Township and Clermont County.
UPDATE: You know you try to have respect for the opposition, and tell yourself to be polite, because of the importance of the process. And then you hear news like this: Victoria Wulsin is refusing to concede. She's probably all lawyered up, already. Good God.
Very good turn out stats in Ohio...
November 7, 2006 07:11 PM
...seem to bode well for Republicans. Viking Spirit has the goods:
I was listening to Sean Hannity about twenty minutes ago, and he had Bill Cunningham call in with an Ohio update. Cunningham said he has a source in the Secretary of State's office that said turnout in Cuyahoga County is less than 20%, while turnout in rural counties is 80%.

If Cunningham's correct...this could put Blackwell and DeWine over the top.

UPDATE: A source at the RNC tells me that turnout in inner-city Columbus is lagging behind suburban turnout.

UPDATE 2: I just talked to a source on the ground in Southwest Ohio, and his precinct has turned out 1300 out of 1800 voters so far (72%). If that figure is reflective of the rest of Southwest Ohio (based on my experience today, I believe that to be true), it's going to really help Republicans.

UPDATE 3: I've talked to some more sources on the ground, and I'm hearing that turnout in Warren and Clermont counties is at least 65%.

UPDATE 4: I received an email saying that WEWS news in Cleveland reported that turnout in Cuyahoga County was 13% as of 2 P.M.
As one of the Viking Spirit commenters notes, Bill Cunningham is probably exaggerating. But the rest of the stats still sound good to us.
ALSO: We note that in actual results that are now running on local tv, Republican incumbent Geoff Davis has taken an early lead in KY-04.
Faith Hill is a Democrat...
... and she lost last night. We hope that tonight, some of her fellow Dems have the exact same reaction that Faith did, when she realized she had not won the award for female vocalist of the year.
[BTW, if anyone knows how to imbed YouTube video in Moveable Type, email us at admin@nastybrutish-n-short.com]
Vote counting began in Ohio yesterday...
...at least as far as the absentee ballots are concerned. They were scanned in, and the results kept secret. The Butler County Board of Elections came up with an interesting plan,
After scanning nearly 15,000 absentee ballots Monday night, Board of Elections officials issued a new password to the computer server. Republicans made up the first half of the password and Democrats created the rest.

The password will ensure that no one sees the results before the polls close, said Betty McGary, the board's deputy director.

"Even I could not preview those results if I wanted to," McGary said. "When we upload (the results) and push them out on the Web site after the polls close, the public will actually view those results at the same time we do."
Seems fair. But we still don't understand why they needed to start counting them early in the first place. Who cares if it takes a long time tonight? That's part of the process.
"100% Democratic...
... so it's not like we're cheating Republicans out of anything."
That's Democrat Carlos Matos, explaining why he was blocking Republican poll observers from Philadelphia's 19th Ward.
And the Democrats complain that the Republicans are suppressing their vote? Unbelievable.
UPDATE: That video not enough for you? Here's another one.
Report from Butler County
A totally credible source (NBS's mom) reports from a heavily Republican area of Butler County. Turn out is heavy. At 4:00, the Republican "flushers" will check the polls to see which Republican-registered voters have yet to turn up at the polls. Each one of those people will be contacted, and urged to get to the polls before they close. When possible, rides will be arranged for voters who can't get to the polls.
That's what the Republican ground game is up to in Ohio.
"GOP Voter Suppression So Effective That GOP Candidates Can't Even Vote"
Doesn't that headline from Wonkette just about say all that one needs to know about supposed GOP voter suppression? They're running it with the Channel 12 footage of Jean Schmidt's voting problems this morning (which don't appear to be voting problems at all, it just looks like her ballot didn't scan correctly, at first).
"I voted for change...except for me."
So said Hillary Clinton to the tv cameras, as she left her polling place this morning.
Is it too early for us to start talking about her unappealing personality?
Election Eve in OH-2
NBS spoke to Jean Schmidt at a rally at her campaign headquarters last night. She seemed confident and focused on her own race. The crowd shared some victory cake, and we cracked a few jokes about the icing (which would turn the tongue blue). We were envisioning Victoria Wulsin turning it into an attack ad: "Jean Schmidt's nuclear waste dump will turn your tongue blue. You deserve better!"
It would be about as truthful as the nuclear waste dump radio spots that Wulsin is running right now.
We are more confident about Jean's chances than we are about any of the other close, local Congressional races. She's conservative, and so's the district. Her opponent is very liberal. Steve Chabot in OH-01 and Geoff Davis in Kentucky-04 are not nearly so lucky. Their districts are far less conservative, and they both drew Democratic opponents who are running as conservatives (and hoping voters are gullible enough to believe that they actually are). Jean should cruise to re-election, and will hold the seat for as long as she wants it.
Here's one worth printing...
...
for the political junkies
. John Fund in the Wall Street Journal has an hour-by-hour guide to tonight's results. He thinks some early results will show us how things are going nationally. We think it still looks like a late night.
Does Rain Favor Republicans?
That's been the conventional wisdom for generations. We've always thought it was quite the compliment, as it suggests that Republican voters are more committed, passionate, and less likely to be fair weather friends.
But actually, it has been studied. Rain does not favor either party. These means we can't rely on Karl Rove's secret cloud-seeding program here in Ohio.
So go vote.
UPDATE: Nix Guy sets us straight. Another academic study says that rain does help Republicans. But probably not as much as John Kerry suggesting the troops are stupid.
Looking ahead to the next election...
November 6, 2006 10:17 AM
... and no, we're not talking 2008. We're talking 2007.
Last night NBS received a push poll call, that was clearly arranged on behalf of two potential Republican city council candidates. Guess who the poll was trying to gauge support for?
Sam Malone and Charlie Winburn.
You heard it here first. The call was automated, and ran through each current council person, to gauge whether NBS would vote for them in the next election (we said "yes" to Bortz, Monzel and Cecil Thomas, and no to everyone else). And we give firm "no's" when asked if we would support Winburn or Sam Malone for council.
We hope they get the message and decide not to run.
Wulsin Campaign Fabricates; Enquirer Aids and Abets
November 2, 2006 04:42 PM
Remember on Sunday, when the Enquirer ran with a Howard Wilkinson story on how Jean Schmidt supposedly supports a nuclear waste storage site in Piketon?
Well, it turns out her opponent supports the exact same plan Jean Schmidt does. And it is not a nuclear waste dump at all.
Victoria Wulsin knows this, but it hasn't stopped her from campaigning on the opposite side of the truth. And, it sounds like the Union workers in Piketown are not happy about being used: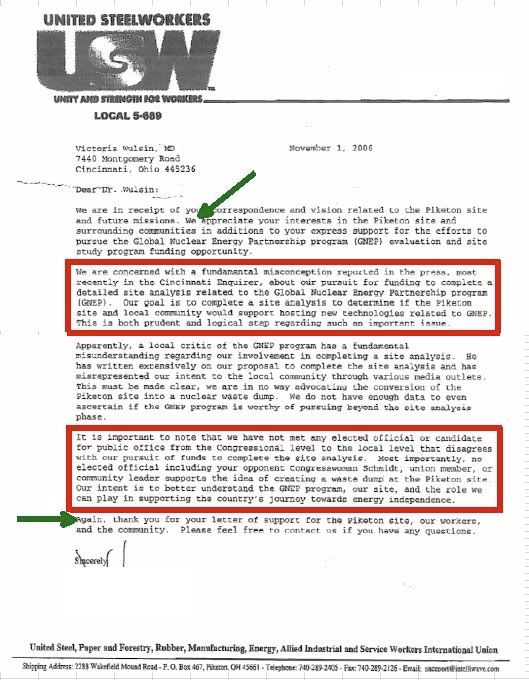 Hat tip: Whiskey Tango Foxtrot.
UPDATE: It turns out the Union is really, really not happy about being used. See here. Wonder what the chances are the Enquirer will run an article about how the Democratic congressional candidate has enfuriated the Union base?
UPDATE No. 2: Even the left-leaning Cincinnati Beacon is disgusted by the Wulsin campaign, noting: "Message to Democrats: If you expect real progressives to vote for your candidates, you're going to have to do much better than this!"
Fly Him to the Moon
We thought it quite amusing when we heard this little clip on CNN. Here's Wolf Blitzer, talking about John Kerry's decision to suddenly cancel an appearance on The Situation Room yesterday afternoon...
And by the way, you may have seen our promotion of an interview with Senator Kerry for THE SITUATION ROOM this afternoon. Senator Kerry's office had confirmed that the senator would be joining us today. This morning, a spokeswoman from Senator Kerry's office, however, told us that Senator Kerry had wanted to join us but I'm quoting now, "he is on a plane all day and would be unavailable."
"On a plane all day?" How could that be, we thought at the time. Where would he be flying to that takes all day? It is only a few hours to fly from coast to coast. Perhaps, we thought, some of his fellow Democrats have finally sent him off to some isolated place, where there are no microphones, recording devices, or telephones? Perhaps they have finally found a way to get him to shut up?
And then we saw this, in the Daily Mail:
This stunning image of a BMI Airbus flying past the moon was captured on Wednesday night.
Yes, the Democrats have finally figured out what to do with John Kerry.
We sure hope he's back by '08.
"At worst, they're misleading..."
... so says the Enquirer, in their analysis of Victoria Wulsin's campaign ads. The ad in question is Wulsin's "You Deserve Better" spot, which is the one that begins with Jean Schmidt's "cut and run" floor speech, and then accuses her of voting "against veterans' health benefits" and "homeland security funding."
The problem is that Jean never voted against veterans health benefits or against homeland security funding. As the Enquirer explains,
The only justification for the statement that Schmidt voted against veterans' health benefits was her support of the $2.8 trillion federal budget. The 2007 spending plan called for an increase in veterans' health care spending in 2007, followed by reductions after that - though such decisions are always revisited in future budgets and appropriations bills.
In other words, there was no reduction in veterans health benefits at all. As for homeland security,
On security, Wulsin cites seven roll-call votes on amendments, totaling $257.8 million, to the Homeland Security Appropriations Act of 2006. All were sponsored by Democrats, and all but one lost on largely party-line votes. One exception: the Democratic-sponsored Lynch Amendment, which added $50 million for rail security, received enough Republican votes to pass. Schmidt voted against it.

But those amendments didn't increase homeland security funding at all; in fact, they would have diverted established homeland security spending to other areas - nuclear-detection devices in ports, local disaster coordination, investigations of the handling of Hurricane Katrina and even global- warming studies and "breakfast with firefighters" programs.
In other words, Wulsin claims that Jean Schmidt voted against homeland security because she didn't support seven Democrat-sponsored pieces of legislation that redirected--but did not increase--homeland security spending.
[An aside: How telling is that the Democrats think that homeland security funds should be spent on global-warming studies and "breakfast with firefighters" programs?" Is that how Victoria Wulsin would defend us from terrorist threats? With global warming studies and "breakfast with firefighter programs"?]
But back to the ad. Jean Schmidt never voted to reduce veterans health care benefits. And she never voted against homeland security funding.
UPDATE: Tom Blummer over at BizzyBlog has noticed the same thing, and strong criticizes the Enquirer's coverage of this story.
UPDATE NO. 2. Whiskey Tango Foxtrot is also on the case.
John Kerry's "October Surprise"
November 1, 2006 10:03 AM
Could Karl Rove have dreamed up a better October surprise than having the Democrats' most recent choice for Commander in Chief suggest that the men and women are dying there because they weren't smart enough to get into law school?
But what we're wondering is this:
How is the "news" that John Kerry does not support the troops surprising? How is the "news" that John Kerry does not respect the troops surprising? How is the "news" that John Kerry is a political idiot, surprising?
Is there anyone, besides the writers at Time, who is surprised by this? We think Senator Kerry was just saying what he truly thinks. We think he was just saying what a lot of Democrats think.
Now that's what we're talking about, Schmidt Campaign
Focus on the basics. Jean Schmidt is conservative. The Second District is conservative. And Victoria Wulsin? Well, as the Schmidt campaign is explaining, Wulsin is a ...
"liberal left winger with no serious ideas. Her support for raising taxes, granting illegal immigrants social security, food stamps, and medicare and her wacky ideas about environmental issues just don't match the district. Pro-choice groups like EMILY's list and NARAL backing her for her strong support of abortion is evidence of how out of touch she is with this district. The more our opponent opens her mouth, the more people are turned off by her," said Perin.
We would have struck "no serious ideas" in the first sentence, and replaced it with "scary ideas." But that is just a quibble. They've got the gist of it right. Victoria Wulsin is very, very liberal. Jean Schmidt is not. That is the winning message.