May 2007 Archives
« Previous · Home · Next »
Susan Jacoby thinks Memorial Day is Disgusting
May 31, 2007 03:44 PM
This is how she answers the question "How do you keep your faith during times of war?" in the Washington Post-Newsweek blog "On Faith." At first, she says that she doesn't want to answer the question, because she rejects the premise. And then:
The reason I changed my mind and decided to comment, however, has nothing to do with the unanswerable theodicy question and everything to do with my disgust at the annual American celebration of a melding of patriotism and religion so often used to justify war. I was at home working on Memorial Day and wanted to take a break to watch a movie on television. Fat chance. Nonstop movies glorifying war were the only movies being shown. Iwo Jima. Custer's last stand. The Civil War, including the "glorious" lost southern cause as well as the cause of ending slavery. Alvin York overcoming his pacifism. General George Patton, as certifiable a military lunatic as America has ever produced, quoting scripture and slapping a soldier with what would today be called post-traumatic stress disorder.

The endless references in these movies to the Bible, and to God keeping watch over soldiers, are as nauseating as the endless television news stories about the "miracle" of a slain U.S. soldier's family finding an Iraqi puppy who was, apparently, the last creature the doomed young soldier had a chance to cuddle.
And Newsweek and the Wa-Po think this kind of commentary constitutes "intelligent, informed, eclectic, respectful conversation" about religion? It's none of those things, not when one of your panelists thinks Memorial Day is disgusting, and Biblical references are "nauseating."
HT: Amy Alkon, who thinks Susan Jacoby is marvelous.
Tacky
If you're going to have a wedding website--a pretty dangerously tacky idea to begin with--do not say things like this:
Marisa Stones, manager at a financial-services company in Bermuda, used her wedding blog to keep friends and family members up to date on her engagement ring: "The ring has a three-stone setting. The middle stone is a princess-cut diamond, .74 carats, clarity of VS1, and color E," wrote Mrs. Stones. "The side stones are amazing sapphires that weigh about half a carat altogether."
What a completely inappropriate thing to say to anyone, much less broadcast on the web!
How about this pair?
Chris and Anna Saccheri chose to tie the knot at a chapel in Las Vegas largely because the place offered streaming video. On April 15, at 4 p.m. Pacific time, friends and family could tune in on www.vivalasvegasweddings.com, where they got to see the couple drive down the aisle in a pink Cadillac, get serenaded by an Elvis impersonator wearing gold lamé, and see a dozen guests in a conga line.
They picked the location of their wedding because it offered streaming video??? Can you imagine?
It's been just under a year since The Big NBS Wedding. Several people urged us to do a website. I am really glad we didn't. Not that we would have ever been so crass. But still!
If you're going to be an anonymous blogger, don't blog about the malpractice case pending against you
From the Boston Globe:
It was a Perry Mason moment updated for the Internet age.

Was Lindeman Flea?

Flea, jurors in the case didn't know, was the screen name for a blogger who had written often and at length about a trial remarkably similar to the one that was going on in the courtroom that day.

In his blog, Flea had ridiculed the plaintiff's case and the plaintiff's lawyer. He had revealed the defense strategy. He had accused members of the jury of dozing.

With the jury looking on in puzzlement, Lindeman admitted that he was, in fact, Flea.
His poor defense counsel, I am sure they had no idea what they'd been hit with.
The "Flea" confession was probably lost on the jury, but Plaintiff's counsel indicated that they would be introducing all of his blog posts as evidence the next day. He coughed up a substantial settlement offer before that happened. And lo and behold, the dispute was resolved.
Kudos to Plaintiff's counsel, who will be telling this war story for the rest of her career. Oh and the best part? Check out what the Doctor had been saying about her:
Elizabeth N. Mulvey, the lawyer who represented Vinroy and Deborah Binns and unmasked Lindeman as Flea, said she laughed when she read a posting at the start of the trial in which Lindeman nicknamed her Carissa Lunt, noticed that she bit her fingernails and mused, "Wonder if she's a pillow biter, too?"
The jury would NOT have found that commentary impressive. And I wonder when Plaintiff's counsel realized that the doctor was "Flea"? Did she know it all along, and wait for just the right moment? I picture her as a lioness, stalking her prey. And waiting... for just the right moment... to pounce!
HT: Althouse
Terrorist "Dry Runs" on U.S. Commercial Flights
May 30, 2007 10:45 AM
From Ann Jacobsen's blog, Aviation Nation:
The Department of Homeland Security has declassified the Inspector General's report on Northwest Flight 327 — a flight which I was a passenger on back in June of 2004. It took the US government two years and eleven months to confirm what I have been writing since the flight landed — in my 28-part series for WomensWallStreet.com and in Terror in The Skies, Why 9/11 Could Happen Again (Spence 2005) i.e:

The flight was a dry run for a future terrorist attack involving planes.
The Federal Air Marshal Service grossly mishandled what happened during the flight.
The Syrians terrified flight crew and passengers.
The Federal Air Marshal Service grossly mismanaged what happened after the flight landed in Los Angeles.
The Federal Air Marshal Service attempted to cover up their egregious incompetence by issuing false statements and misleading the public about the severity of what happened on the flight....

Ironic note: DHS now refers to the group as a "band" (in quotes) because the Syrians were not a band — that was their cover. The declassified DHS report also confirms what I reported last month: that the Syrians from Flight 327 were involved in an earlier dry run — on January 28, 2004. The FBI had flagged this dry run into their incident base six months before Northwest 327 took flight.
I wrote about Flight 327 back in August, and was immediately accused of perpetuating an urban legend, and inadequate sourcing. Of course, it turns out I was right all along. This is no where near the abuse that has been heaped on Ann Jacobsen though, for pursuing this story.
You can read Ann's first-hand account of what happened during Flight 327, here. It is pretty chilling.
HT: Malkin
Crime stats are way, way down
The number of gunshot victims arriving at the trauma units at both Children's Hospital Medical Center and University Hospital is down. At Children's, the number is down 78 percent, with five juvenile victims so far this year, compared with 23 victims at this time last year.

University Hospital's trauma center has seen a 17 percent drop in gunshot victims with 100 victims this year compared with 120 last year.

Violent crime for the first four months of the year is down from this time last year.

City crime statistics show that violent crime - murder, rape, felonious assault and robbery - is down 15.3 percent to 1,002 for the first four months of the year from 1,183 incidents last year.

Contributing to that decrease is big drop in homicides. As of early Tuesday evening, 28 homicides have been recorded in Cincinnati. A year ago at this time, 37 people were counted as homicide victims.

An Enquirer analysis of monthly crime figures dating to 1968 shows that if historic crime patterns stay on track, the city will finish the year with 62 homicides - 27 fewer than last year when the city broke all modern homicide records with 89.
But will the trend hold while the summer gets hot?
The Idiot of the Day...
... is the new CEO of the National Underground Railroad Freedom Center, Donald Murphy. He explains why the Freedom Center needs taxpayer funds:
He used the comparison of early Google investors, who didn't expect or get a return for years after they first contributed their money.
He really needs to come up with a line that's not laughable, if he wants people to support his cause.
Can you believe this thing was running around in the woods in Alabama?
May 29, 2007 03:33 PM
That's eleven year old Jameson Stone (top) and the wild hog he killed in 'Bama over the weekend. It weighs 1051 pounds and is over nine feet long.
It feels really good," Jamison said in a telephone interview with The Associated Press. "It's a good accomplishment. I probably won't ever kill anything else that big."
Well, not unless he takes out Dennis Kucinich's wife. But in the meantime, what's going to happen to that hog?
The hog's head is being mounted by Jerry Cunningham of Jerry's Taxidermy. Cunningham said the animal measured 54 inches around the head, 74 inches around the shoulders and 11 inches from the eyes to the end of its snout.

"It's huge," he said. "It's just the biggest thing I've ever seen."

Mike Stone is having sausage made from the rest of the animal. "We'll probably get 500 to 700 pounds," he said.
Mmmmmm [smacks lips]. Tasty sausage.
Where in the world is NBS?
May 25, 2007 08:23 AM
I'm off to Michigan for the weekend, where I'll be helping the 'rents open up the cottage, leaf blow, paint, etc. The status report from Mom NBS:
Huge white caps yesterday, hit 89 degrees, sunny, gorgeous. Dad worked on the raft for the wee ones. Today is flag pole-improvement-repair-day at the head of the bay.
It's a 500 mile drive, and we'll see how bad the traffic is, or if the gas prices are keeping everyone home. Last year at this time I-75 was jam-packed with boat trailers, trucks, and SUVs towing every kind of gas powered recreational device imaginable.
Photo (shamefully pilfered from my friend Rob's Flickr album) is actually of last year's July 4 festivities, but you get the idea.
There was no Kent State conspiracy or cover up. I'm telling you, I know.
May 23, 2007 10:01 PM
But first, a little context:
The Cincinnati Beacon is up with a post on the Kent State shootings, which happened 37 years ago, in a time of angst and uncertainty about a foreign war. And when a good many people became extremely exercised about the motives of people in power, and were inclined to believe the worst.
The Beacon links to an article by Bob Fitrakis (a former Green Party candidate for Ohio Gov.) and Harvey Wasserman (a very well known left-wing academic and commentator). Their article contends that there is "new proof" that shows the Ohio National Guard intentionally opened fire on the students at Kent State, killing four of them. They write:
For 37 years the official cover story has been that a mysterious shot rang out and the young Guardsmen panicked, firing directly into the "mob" of students.

This week, that cover story was definitively proven to be a lie.

Prior to the shooting, a student named Terry Strubbe put a microphone at the window of his dorm, which overlooked the rally. According to the Associated Press, the 20-second tape is filled with "screaming anti-war protectors followed by the sound of gunfire."

But in an amplified version of the tape, a Guard officer is also heard shouting "Right here! Get Set! Point! Fire!"

The sound of gunshots follow the word "Point." Four students soon lay dead.
The article contends that this tape was recently discovered, and that it proves what conspiracy theorists had long suspected--that the Government killed these students. In fact, Fitrakis and Wasserman go so far as to directly accuse then-Governor Rhodes of ordering the National Guard to open fire. They call it a "premeditated and unprovoked order" to fire live ammunition at the students, and that it came from the Governor:
For we now know that a premeditated, unprovoked order was indeed given to National Guardsmen to fire live ammunition at peaceful, unarmed American students, killing four of them. The illegal order to arm the Guard with live ammunition in the first place could only have come from the governor of Ohio.
It is a scathing claim. They are accusing Governor Rhodes and the Ohio National Guardsmen of murder. It is a claim that is not worthy of two people who are, though to the left, well-within the confines of customary Ohio political discourse.
And they are wrong. How do I know this? Seven years ago was the 30th anniversary of the Kent State shootings. At that time, I was a newly-minted law school grad, and was working for the government. And I was given an extraordinary assignment: review the Kent State files, and determine what the media could and could not see in response to FOIA and Ohio Public Records Act requests (they were writing their thirtieth anniversary retrospectives).* And I got to see everything, and determine what the press and the public would be allowed to see. There were boxes and boxes of materials--including all the records pertaining to the numerous investigations after the shootings. The records were so voluminous, it took weeks to review all of them. It was a brutal assignment--there are photos from the scene that day which are so graphic and disturbing that the press will not publish them. And, I quickly became an expert in all things related to Kent State.
I cannot comment on the contents of the non-public records, but I can say that very, very few fall in the non-public category, and the press got to see every thing pertinent. And the important thing is this: There is absolutely no evidence to support Fitrakis's and Wasserman's outrageous claims. None. All of the evidence supports the conclusions of the official investigations from thirty-seven years ago. There was no conspiracy, and neither the Ohio National Guard, nor Governor Rhodes, murdered anyone. It is disgraceful that Fitrakis and Wasserman would level the allegations that they have. There is no evidence to back up their claims of intentional and premeditated murder. None.
*If you're wondering why all the records are not available to the press or the public, the reason is that law enforcement investigatory records--especially those pertaining to uncharged suspects--cannot be produced under FOIA or the Ohio Public Records Act.
Finally, Elizabeth Hasselbeck Fights Back
Wherein my paralegal chimes in on the people and attorneys of Pittsburgh
I'll not only EXCUSE your language, but I will agree!!! [ed. I had called opposing counsel a "total ass," after he bizarrely accused my paralegal of screwing up some documents that he had screwed up himself.] What is up with these people!!! I will be happy when this case is over, for a great number of other reasons, but also so that we'll be rid of at least these people. Presumably there will be some just like them to replace them in another case. It's no wonder people in Cincinnati HATE people from Pittsburgh!!! What a foul lot!!! I think I shall request an audience with Mr. Lewis and ENCOURAGE him to do WHATEVER is necessary to soundly defeat the Steelers in both games this year. I used to not believe that the Carson Palmer injury was intentional, but after this experience with people from the Steel City, I am not so sure.
She's not from here, but she's learning.
The Times of London Profiles Dennis Kucinich's Hippie Freak of a Wife
May 21, 2007 03:28 PM
She is 29 and he is 60, by the way. Third marriage for him, first for her. Check out their hot hippie freak rush to the altar:
Kucinich met her husband-to-be two years ago when she visited his office in the House of Representatives with her boss as a volunteer worker for the American Monetary Institute, an offbeat group dedicated to reforming the "unjust monetary system".
Offbeat indeed! From their website, one learns that "the actual history of government control over money shows a far superior record to private control." In other words, socialize everything!
So she's pretty much perfect for Dennis, and he recognized this, too.
It was love at first sight for both of them. Immediately after their meeting, Dennis Kucinich phoned a friend and said: "I've met her [my future wife]."
Creepy! Nevertheless,
He was mesmerised to receive a business e-mail from Harper with her usual signature line from Kama Sutra, one of her favourite films: "Knowing love, I shall allow all things to come and go, to be as supple as the wind and take everything that comes with great courage. My heart is as open as the sky."
That's how she signs a business email?. Wonder how Dennis signs his? But anyway:
He proposed at their second meeting in Albuquerque, New Mexico, and they married three months later. The Hollywood actress Shirley MacLaine attended their wedding.
Proposal on a second date? Tacky and foolish. Married three months later? Tacky and foolish. Shirley MacLaine at the wedding? Tacky, foolish and totally unsurprising.
On his presidential prospects, the new missuz says:
"Can you imagine what it would be like to have real love in the White House and a true union between the masculine and the feminine?"
Ooooo, sounds like sequel to The DaVinci Code. Like those characters, she is well-traveled:
It was in India that she encountered somebody with a tongue stud and later had her own implanted — a bar with two delicate balls on either side.
Flash ahead to the "Decline and Fall of the American Empire" history books of tomorrow: With a flick of the tongue, she said to the Foreign Minister "I can prowmiss you don't have to worry about American intervention in your war of agression. I have Dennis's foreign pwolicy firmly in cheek."
After all, she's even opposed to aggressive responses to 9-11:
At Kent she unexpectedly signed up for a master's degree in conflict resolution after meeting the course lecturer in a pub. She knew she had chosen the right subject when her final exam took place on September 11, 2001.

"The rest of the world was sending out its love to America but US officials just wanted to kick out. I remember thinking then I'd love to come to America and help them to reconcile with the rest of the world," she said.
Perhaps she's just part of some secret Democratic plan to make us all less scared about Hillary?
Apparently, yes:
On her MySpace website she ... says her heroes are "my beautiful husband and anyone else who embraces peace". She describes Dennis as a "very philosophical, deep thinking person" rather than a new age type, but he is a vegan, unlike her — she still cannot resist occasional dairy products.
Which is why she is now 7 feet tall. -------------->
Photo via Wonkette
Pete Rose's Persecutor's Secretary is a Hooker! Allegedly!
May 18, 2007 02:51 PM
Remember John Dowd, the D.C. attorney, investigator, and author of the Dowd Report--which secured Pete Rose's lifetime ban from baseball?
Well, he's back in the news. It turns out that the alleged D.C. madam who has been in the news of late had an "employee" who worked as Dowd's secretary at Akin Gump, the prestigious D.C. law firm.
Will he forgive her if she admits it and apologizes? And which does he think is worse... hooking or betting on baseball?
"Lion Mutilates 42 Midgets in Cambodian Ring-Fight"
I didn't know this kind of thing still happens. The BBC reports:
The fight was slated when an angry fan contested Yang Sihamoni, President of the CMFL [ed. CMFL stands for "Cambodian Midget Fighting League"], claiming that one lion could defeat his entire league of 42 fighters.

Sihamoni takes great pride in the league he helped create, as was conveyed in his recent advertising campaign for the CMFL that stated his midgets will "... take on anything; man, beast, or machine."

This campaign is believed to be what sparked the undisclosed fan to challenge the entire league to fight a lion; a challenge that Sihamoni readily accepted....

The Cambodian Government allowed the fight to take place, under the condition that they receive a 50% commission on each ticket sold, and that no cameras would be allowed in the arena.

The fight was called in only 12 minutes, after which 28 fighters were declared dead, while the other 14 suffered severe injuries including broken bones and lost limbs, rendering them unable to fight back.

Sihamoni was quoted before the fight stating that he felt since his fighters out-numbered the lion 42 to 1, that they "… could out-wit and out-muscle [it]."

Unfortunately, he was wrong.
I love how the BBC just ends it report with the simple sentence "Unfortunately, he was wrong." And how about those good government Cambodians? Sure you can do this, just give us half the take. Nice.
UPDATE: I can't believe I missed the obvious nasty, brutish and short joke with this post.
UPDATE NO. 2: A loyal reader just texted us "I'm pretty sure your cambodian midgets story is a hoax." Could be, who knows. Who even cares? All we know is "42 Cambodian Midgets Potentially Not Slaughtered by Lion" doesn't make for much of a headline, does it Mr. Smartypants?
Local WASP's battle with Anne Heche is getting ugly...
TMZ.com reports:
In court papers earlier this month in Los Angeles County Superior Court, Coley Laffoon is asking a judge for joint custody of the couple's 5-year-old son Homer, but claims that Anne's "bizarre and delusional behavior" and "poor parenting skills" could be a problem. In the papers, Laffoon claims that Anne once didn't put Homer in a car seat, she often cusses in front of the child, and packed school lunches that Homer "did not like." Laffoon added that his prior experience as a nanny and a summer camp counselor justify giving him joint custody.
I don't know why he's focused on the car seat and un-tastey lunches when he's in a custody battle with someone who wrote an autobiography called "Call Me Crazy." That book pretty much documents her mental instability, including her battles with her alter ego, "Celestia" and her attempted rendez-vous in the desert with a space ship. Word on the street here has always been that Coley's parents were mortified that he married the deranged ex-girlfiend of one of the world's most prominent lesbians. But, I've also been told Anne always behaved herself and was perfectly nice while in town for family functions.
But anyway, back to TMZ. They say a rep for Heche has fired back:
It is disappointing that Coley Laffoon has resorted to filing lies with the court because Anne would not cave in to his astronomical monetary demands, including his demand for $45,000 a month in support. For the past several years, the child's father has refused to get a job in order to contribute financially to the child's care.
Ouch. No job, Coley?
Unbelievable
May 17, 2007 10:45 AM
The Westboro Baptist Church--you know, the people who go to soldier's funerals and scream "God Hates Fags" at the attendees--has announced they are going to picket another funeral.
Guess whose?
At least this shows just how nutty the Westboro Baptist Church crowd is.
Meanwhile, over at The Kraalspace...
...Dr. Mabuse has a post up that is as amusing as it is mortifying. Here's a correction that her local paper ran yesterday:
A photograph on page D1 of yesterday's Citizen is not of Peter John Graham, who was convicted Tuesday of sexually assaulting a 13-year-old girl. The photograph is of Peter Reid Graham, who has never been charged with, or convicted of, any sexual assault. The Citizen apologizes unreservedly to Peter Reid Graham and his family for any distress caused by the erroneous publication of his photograph.
Can you imagine??? But it gets worse. Per Dr. Mabuse:
But the online edition doesn't show you what the print edition has: under an apology for printing Mr. Graham's photograph, they thoughtfully print his photograph! So the Citizen has now TWICE published the photo of the man who DIDN'T do the crime, and we have not yet seen ONE photo of the man who DID.
I wish I were licensed to practice law in Canada. That would be one fun lawsuit to file.
Is the Business Courier Just a Gossip Rag for People in Suits?
May 16, 2007 09:31 AM
If not, then why are they running this:
Top P&G executive files for divorce

A.G. Lafley, the CEO of Procter & Gamble since 2000 and the mastermind behind its massive acquisition of Gillette Co., has filed for divorce after almost 37 years.

The Procter lifetimer, who will turn 60 on June 13, filed for a legal separation from his wife, Margaret, in Hamilton County Common Pleas Court on Dec. 29. According to the filing, he and his wife agree that their marital relationship has become incompatible and that they have been living separate and apart. A.G. Lafley's address is listed as 1 Lytle Place, downtown. Margaret Lafley's address is listed as Hyde Park....
Q: What kind of fan could be won over by an XXL jockstrap?
May 14, 2007 10:50 PM
A: A Dodger's fan. From the Enquirer:
A talkative Dodgers fan received a one-of-a-kind souvenir from Ken Griffey Jr. during Friday's game at Dodger Stadium.

A ball? A wristband? An autographed bat?

No, the Reds outfielder tossed the unidentified man, who was seated beside the Reds dugout and had heckled Griffey throughout the game, a new XXL athletic supporter.

Can't a guy be fan-friendly?" Griffey wondered Monday.

The fan documented the whole encounter with the future Hall of Famer on his MySpace page, complete with photos lending credence to supporting the story.
And, this gesture won the fan over. Annoyingly, the Enquirer doesn't mention the fan's name, or link to his MySpace page. The Enquirer has got to revise it's policy about linking to websites. I'm tired of this "let's pretend the internet doesn't exist" crap. Especially since blogs are driving their readership.
Better thee than me
My college friends Justin and Jordana and their three--or is it four kids? (honestly, with that many, it's hard to keep track) are now between homes, due to fact that the house they were in sold rather quickly, and the one they were moving to isn't ready yet. So they are staying at a friend's, who is out of town.
Over at her blog, Jordana documents what good house-sitters they are:
Saturday night we got home late, put the kids to bed and were lounging in the living room reading the newspaper and running a load of laundry when the 85 lb., epitome of dumb blonde, yellow lab that lives here came running into the room tracking water everywhere. The laundry room had flooded. We dried the floor and pulled out the washing machine to dry underneath it, where we discovered that the problem was not the machine failing, but a backed up drain pipe.

Upon going down into the basement to see if we could find the problem, we discovered it wasn't hard to find, since water was and had been for some time, spewing all over the basement. I suppose it is a good thing there are twenty-four hour plumbers and by 3 in the morning, there were two blockages cleared -- of course, though, in the process, the dog ran away.
Fortunately, the dog was found, though the basement did flood one more time. Sounds like total hell.
Coming to College Campuses: Nudist Colony Recruiting Drives
The Associated Press Reports "Nudists Trying to Attract Younger Following."
To draw 20- and 30-somethings, nudist groups and camps are trying everything from deep discounts on membership fees to a young ambassador program that encourages college and graduate students to talk to their peers about having fun in the buff.
What, young people don't want to hang out with this guy?
Gordon Adams, Solair's membership director, walks along the beach at Solair Recreation League, a nudist camp in Woodstock, Conn., Saturday, May 5, 2007.
What really made me laugh was this line, though:
"I hope to get the word out to younger people that hey, it is OK, and here's a safe place to be, a very accepting place," Maguire said. "Unlike any other place in life, people actually look at you when they talk to you."
Yes, at the nudist colony, "people actually look at you when they talk to you." But where "at you" do they look?
A teenagers Mother's Day video card...
Has anyone noticed the world doesn't hate us anymore?
May 11, 2007 09:17 AM
Ann Coulter makes a great point. Despite George W. Bush being a supposed "cowboy president" who has made the rest of the world despise us, it isn't looking that way lately. France just elected a very pro-American President. Germany did the same thing in 2005, Canada elected a conservative Prime Minister in 2006, and the pro-American Prime Minister of Australia was re-elected to an historic third term in 2004. And even Tony Blair, who was our ally when few else were, is about to be replaced by a pro-American conservative.
Ann also gets in a sectarian attack:
I'm off to Paris! I hereby revoke every churlish remark I've ever made about those lovely Gallic people. (But in light of former New Jersey governor and current "gay American" Jim McGreevey's latest career move, I redouble everything I've ever said about the Episcopalians.)
I'd be offended by that, if she weren't absolutely right.
HT: Bizzy Blog.
Ivy Leaguers Not All That
Cornell has to re-print its yearbook:
Ahhh, so this explains it
May 10, 2007 08:37 AM
From Warst.com

Family Feud '08
May 9, 2007 03:01 PM
Phil Heimlich is officially running against Jean Schmidt in the Republican congressional primary next spring. He's already raised $120,000.
Just what we need. A nasty and divisive local primary in a Presidential election year. As Jean's Chief of Staff properly notes,
[Heimlich] showed last fall that he doesn't have much support in Hamilton County, much less the rest of the district.
Quite true. Why does someone who was voted out of office in his home county think he is entitled to a promotion to Congress?
That said, though, I am very annoyed with Jean for telling the Enquirer this:
"I have no idea why some opposed The Banks funding, but I can tell you why I voted for it," Schmidt said, explaining that Hamilton County commissioners, the Cincinnati City Council, Mayor Mark Mallory and the downtown business community all identified The Banks as their No. 1 priority.

"I simply went to work on making it a reality," she said. "I am very happy I got The Banks project in the bill. I am proud to have voted for it. ... If people want to criticize me for fighting for my community, I will gladly admit my guilt."
Very, very annoyed. Why do we need a Republican in Congress who doesn't understand her constitutional role, when we already have so many Democrats who don't? Quotes like this make it very hard for people who have supported her in the past to defend her.
Chalk me up as reserving judgment on this one, for now.
Jeff Ruby Kicks O.J. Simpson Out of Restaurant
I'm not a big Jeff Ruby fan, but I'm even less of an O.J. Simpson fan. Good for Jeff for telling O.J.
we don't serve his kind around here
.
And what is with The Times' Other Latest Obsession?
May 8, 2007 03:33 PM
And no, I don't mean preppies. I mean animals and their love lives. On April 30, it was the ducks:
Dr. Brennan was oblivious to bird phalluses until 1999. While working in a Costa Rican forest, she observed a pair of birds called tinamous mating. "They became unattached, and I saw this huge thing hanging off of him," she said. "I could not believe it. It became one of those questions I wrote down: why do these males have this huge phallus?" ...

Gazing at the enormous organs, she asked herself a question that apparently no one had asked before. "So what does the female look like?" she said. "Obviously you can't have something like that without some place to put it in. You need a garage to park the car."
And then on May 3 it was the frogs:
Then Mr. Noonan said in a low voice, "Hey, come look at this."

The glare of his flashlight showed a male frog locked onto the back of a female twice his size.

"They're in amplexus," Mr. Barker said, using the polite biological term, and the Latin word, for embrace.

Some embrace. It's more like a lock hold. The male atop the female grasps her with his forelegs and hangs on for dear life as he fertilizes the eggs she releases into the water, all the while fending off other males trying to depose him.

"Look at them!" Mr. Barker said as we watched four or five desperate males fling themselves onto the mating pair, only to get a quick kick in the gut or go somersaulting over the female's head.
And today it's the last giant tortoise in the Galapagos:
A few years later, in 1993, there was briefly a companion known as "Lonesome George's girlfriend," but she was not a tortoise. She was a 26-year-old graduate student in zoology from Switzerland named Sveva Grigioni.

By coating her hands in the genital secretions of female tortoises and gently stroking him, she managed to demonstrate a couple of times (in the course of several months' work) that George was capable of an erection. But whereas her touch could induce other male tortoises to reach orgasm within a few minutes, with George she never managed to collect any sperm.
What the hell? And where is this editorial trend heading next?
HT: Gawker
The New York Times Writes About Preppies
"We're talking about a culture that came to this country in the 17th century and hasn't changed all that much except that some schools are co-ed now and polar fleece was invented," said Lisa Birnbach, the editor of "The Official Preppy Handbook," the best-selling 1980 guide that caught the national fancy by celebrating and ridiculing American blue bloods. "Preppies like to be with other preppies," Ms. Birnbach said. "If someone colonizes a bar, they all have to go to that bar. That's never changed since the time of the Pilgrims."
It's funny because it's true!
"It was very creamy and had a graham cracker crust," Crippen said. "It splattered all across the floor, crumbs all the way to the communion rail."
The Episcopal/Anglican crack-up hits a new low,
as a conservative rector in Colorado gets pied
. I love the eyewitnesses description though. "It was very creamy, with a graham cracker crust!"
"They're probably having to go out and rent theirs this afternoon."
...so says Laura Bush, talking about American males needing to rent white tie and tails for the State Dinner for QEII. Surely she's just joking? If you were invited to a State Dinner, wouldn't you shell out for clothes you actually own? Chances are you can afford it, if you're invited to a State Dinner for the Queen of England. Hell, even I own my own white tie and tails. Granted, this is because I never returned some I rented a few years ago, so technically, they are stolen white tie and tails. But at least that's better than rented.
I also have a quibble with the Queen's English. In her remarks, she said "A state visit . . . is the time to look forward, jointly renewing our commitment to a more prosperous, safer and freer world."
Freer? I think it should be "more free." I am sure she pronounced it "free-er," (with not a lot of "r"), and I am sure that is technically correct. She should know, and I am sure these things are vetted. But in print, it reads like poor grammar, and she should be cognizant of that. What would have been wrong with "jointly renewing our commitment to a more prosperous, more safe, and more free world"? Or, even better "jointly renewing our commitment to prosperity, safety and freedom"?
Anything to avoid "freer." We have nothing to freer but freer itself, is what I say.
It could be worse. You could work for Convergys.
May 4, 2007 12:39 PM
The Business Courier reports on their leadership team building activities out at Camp Joy:
A group of co-workers, their fates bound together by a shared goal, works earnestly but with growing frustration toward that objective. Frankly, nobody seems to know who's in charge or exactly what path to take. And just when they think they're close, the goal seems to have changed. They're struggling through the "vision walk" exercise at Joy Outdoor Education Center (Camp Joy), and things are getting tense....

During the vision walk, instructors hike small groups through the woods to a goal - in this case, a bottle of laundry detergent, which they'll have to find later while blindfolded. Then they're returned to the base spot and given 10 minutes to strategize.

Immediately, everyone falls into their typical leadership and teamwork skills. Some people start giving orders; others try to analyze and strategize. Several have taken the time to count the number of footsteps between base and the goal. Others give advice on finding direction and keeping solid footing. And some just seem to fade into the background, struggling to be heard above the noise or seeming to give up.
What about the ones standing on the sidelines, complaining about how stupid this all is? Aren't there any of those?
Once blindfolded, the group members are told they must remain connected with a hand on the person nearest them. And then Mar Feder, a human resources manager for a large local corporation and an adjunct instructor at Joy, throws the first of many monkey wrenches into the assignment - Justin Awls, who has emerged during the group's planning as a leader and placed himself at the front of the search-team line, must move to the back of the line and remain silent for the entire exercise.
The sad thing? I bet Justin Awls is reading this Business Courier article and thinking "How cool is it that? They said I emerged as a leader!"
Anyway, I too am a Camp Joy Leadership Training Grad. But I was forced to go through this crap when I was in the 9th Grade. Seven Hills makes each freshman class go there for a weekend, to bond, become a team, and overcome fears. You know, b.s. like that. It involves lots of walking around in the woods, trying to get a whole group over a wall, and doing a ropes course up in the trees. And you know what? The "Team Building Activities" were too asinine even for that grade level. Why is Convergys making adults do this?
Charming Pre-Mother's Day Blog Comment...
May 3, 2007 03:46 PM
...attached to a post in which the author is complaining about migraines and other problems of modern life.
It's me, your mother, and I just read in a book about herbs that feverfew leaves are one way to deal with migraines. You are supposed to eat a couple of these (VERY BITTER)leaves several times a day, between two slices of bread. Believe me, feverfew leaves are wrenchingly bitter, as I found out yesterday when (in the dark of a tropical night) I went to my garden for parsley and accidently cut a bunch of feverfew. Just a thought. It's supposed to drive away headaches.
xoxoxo ME
I love that "It's me, your mother" bit. And then the inane home remedy of eating "feverfew leaves" (whatever those are) several times a day, between two slices of bread. Not between one slice of bread folded over, or between two Ritz crackers. No, between two slices of bread, several times a day. Get it right, or it won't work, and you'll just have wasted all that bitter leaf eating effort.
In Bob Novak's latest column...
...there are two things of interest. First, the column speculates that "September Dawn" a movie about Mormons opening this weekend is damaging to Mitt Romney's presidential prospects. The movie details the Mountain Meadows Massacre, and portrays Brigham Young as a 19th century Osama bin Laden. In the September 11, 1857 massacre,
Mormons mobilized Paiute Indians, accompanied by Mormons disguised as Indians, to attack a peaceful wagon train. The settlers beat off the attack but were left short of food and ammunition. They disarmed themselves at the request of Mormons who said they would lead them to safety but instead turned on the settlers, murdering every man, woman and child above the age of 8. All that is in doubt historically is whether this was ordered by Brigham Young, president of the Mormon Church. ''September Dawn'' says he was responsible, and the church denies it.
I was having a conversation last night about the PBS special that has been running this week on the Mormons, and everyone was in universal agreement that Mormons represent their faith very well. Nice. Clean-cut. Peaceful. Needless to say, it sounds like "September Dawn" reaches a different conclusion. And I am sure it won't be helpful to Mitt Romney, who is surely the reason we've been hearing so much about Mormon's lately (which all started with Andrew Sullivan's post about Mormon underwear).
Which brings me to the second thing of interest. Novak writes:
I attended a screening of the movie hosted by Academy Award-winner Jon Voight (who plays a fictional Mormon bishop). A conservative, he said this was no hit against Romney. ''I didn't even know he was running when we began this,'' Voight told viewers after the screening. But he said this terrible story is important considering America's war against terrorists.
Jon Voight is a "conservative"? Angelina Jolie's dad? No wonder they're not talking.
How to be a modern day snake oil salesman...
...charge the City of Columbus $125,000 to tell them how to appeal to "young professionals." Meet Rebecca Ryan, CEO of Next Generation Consulting:
Graphics lit up behind her on a gigantic projection screen as she launched into her enthusiastic spiel.

First was a brief glossary of terms and acronyms, from the ever-popular DINKS (double income, no kids) to the less uplifting BASICS (bachelor of arts still in customer service).

Then she introduced the Power Clap.

If you think a Power Clap is just a bunch of loud applause, well, that's why you'll never work with a young professional. It involves everyone in the room clapping at once—but only once. CLAP. That's it.
Sound more like crap than clap, if you ask me. So what sort of substantive advice did Ms. Ryan provide to the City of Columbus?
Coleman and Marsh, the mayor's former chief of staff, said Ryan earned her paycheck by providing the city with intangible commodities such as focus, commitment and validation.
Wow. Commodities so intangible, they're worthless. "Focus, commitment and validation." It really is crap not clap!
And get this: The advice she gave to Columbus? The exact same advice she gave to Akron.
Yes. Akron.
Probably not the right gift for Mother's Day
May 2, 2007 12:21 PM
From theblogblog, we hear of this product: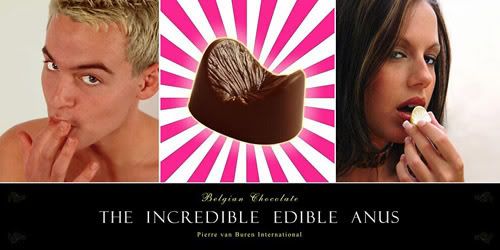 Continued Republican Frustrations with Leslie Ghiz
The scene: a posh downtown conference room. The crowd: a group of high-powered Republican attorneys. The topic of conversation?
Attorney No. 1: Did you get that thing from George Shaefer and Bob Castellini asking you to be on the host committee for a Leslie Ghiz fundraiser?

Attorney No. 2: Yes, but I'm not going to because what's the point if she won't return my phone calls?

Attorney No. 3: I have a call in for her too, but she just had an underling call me back.

Attorney No. 4: I have a call in for her, and she's not calling me back either.

Attorney No. 1: And she likes you.

Attorney No. 4. Apparently not.
Leslie, if you want the support of the Republican business and legal community, you have got to call people back. It's really pretty basic.
"I chased girls and girls chased me."
The New York Times is on top of some non-news about Fred Thompson:
And at a private meeting a few weeks ago with House Republicans, he answered questions about his reputation as a man about town during his eight years in the Senate, a period when he was single after his divorce from his first wife. Mr. Thompson was asked bluntly if any activities from his first marriage or his time in the Senate would come back to haunt him or his backers.

According to those attending, Mr. Thompson assured them there were no problems, but conceded that when he was single, "I chased girls and girls chased me." Mr. Thompson is since remarried, and he and his wife, Jeri, have two young children.
What's so wrong about that? This only makes me like him more.