John McCain Archives
Flight Delayed for Six Hours Due to Three Ticks
July 9, 2008 12:37 PM
What a bunch of patsies we have become.
A Des Moines bound United Airlines flight from Denver was delayed six hours Tuesday when passengers alerted flight attendants to three ticks in the plane's cabin.

"It is an unusual situation to find ticks on the plane, and we regret any inconvenience this might have caused our customers," United spokeswoman Robin Urbanski said.

How the wayward arachnids got on the jet had not been determined. A replacement aircraft shuttled the 107 passengers to Des Moines while Flight 1178 was deticked and checked.

Urbanski said no ticks were found on passengers.
Thank God. Thank God.
Severe thunderstorms, meanwhile, further delayed the trip to Des Moines.

"I never heard of it before, but it is a serious matter, and they had to get plane cleaned up," said former West Des Moines resident and passenger William B. Seward, 80, of The Villages, Fla. "I'm retired, so my schedule is flexible."
"Also, I'm an idiot. Did I mention I live at The Villages?" God, what an moron. "I'm retired, so my schedule is flexible." What the hell?
A six hour delay. I think I would have had to kill the three people who complained about the three ticks. Shut up about the ticks!
I blame The Villages for John McCain, BTW. Thanks for nothing, The Villages. And while we're on the topic, check out the unintended hilarity of this headline:
Maybe he should give a stump speech about ticks?
McCain shakes up campaign to reassure base...
July 2, 2008 01:28 PM
...trouble is, he's still confused about what his base is. From Politico:
One source familiar with the inner workings of McCain's campaign said that the move came after a sluggish ramp-up to the general and number of unforced errors had left the candidate, senior staff and elected officials unhappy with the state of the campaign.

"This will help reassure the chattering class in D.C.," said the source.
Oh good. That'll get him elected. I'm waiting for the chattering class in D.C. to start going door-to-door or working phone banks for McCain any minute now. Especially here in Southern Ohio, where he sorely needs the help. Not many locals are signing up, I can assure you. Let's fly in those chattering D.C. people. Heck, they've been reassured. All it takes to win Ohio is reassured chattering D.C. people.
McCain 12 points behind; only 58% of the conservative base is supporting him
June 24, 2008 09:41 PM
That's per an L.A. Times/Bloomberg poll. Apparently he's relying on the old "they'll have nowhere else to go" myth. Because he sure isn't trying to appeal to the base himself. I was at a Young Republicans meeting last night, and the poor guy from the McCain campaign tried to make a pitch for help. He couldn't have been more ignored by the party regulars. They just aren't interested.
I felt sorry for the poor kid, even as I briefly thought about pointing out to him that his candidate shouldn't be turning to us for help until his candidate stops stabbing us in the back (the global warming tour being the latest example of this). But I didn't say anything. It's not his fault.
His boss may learn. But it may come too late. There is no way a Republican can win if he's only getting 58% of the conservative vote. We're the ones who do all the work to get the candidates elected. Have you ever seen a moderate work a phone bank? Go door to door? No. Not in their nature.
And he just can't write off that many votes. 10% yes. Maybe even 30%. But 58%? The math just doesn't work.
Well, here's one reason to vote for McCain...
June 20, 2008 08:01 AM
...it will tick off all the right people. Like the French. Byron York has lunch in Paris, and discusses it with one of them:
In the European mind, Guantanamo is one of the centers of evil in the world, a dungeon where George W. Bush commits unspeakable acts on innocent Muslims who just happened to be on a battlefield in Afghanistan or Pakistan when U.S. troops captured them.


She says the prisoners in Gitmo have been denied their constitutional rights.


I say they are enemy combatants; they have rights under international treaties, but not American constitutional rights.


But they have "global rights," she insists.


What are "global rights"? I ask.


There's no precise definition, but as far as I could tell, "global rights" appear to be American constitutional rights applied to the entire planet. It's an astounding notion, given that American constitutional rights definitely do not apply across the entire planet — not even in places like, well, France.

A lot of the English aren't much better:
I have a friend in London, very Euro in outlook, who is terrifically frustrated and worried about the election.


His chief concern: the role of Americans. "It's a pity that Americans are the ones who elect the president," he says. "It would be much better if the people of the world voted on the American president."

And guess who would be elected in such a scenario? Here's a hint: It's not John McCain.
Basically, it's us against the world. And by us, I mean red state people.
Only 12% of Republicans are "very satisfied" with McCain as the nominee
June 19, 2008 04:33 PM
People
think the number is shockingly low
. But I have to ask: Who are these 12%? I know of no one.
The Party Leadership We Deserve?
May 12, 2008 03:38 PM
Ready to get depressed? The House Republicans have a new slogan that is obviously a reaction to Obama's nebulous calls for "change." The slogan is, dum dum DUM: "Change You Deserve."
Actually that drumroll should be "dumb dumb DUMB." You know they paid a consultant a ton of money to come up with it, and it's not even that great.
And even worse, it turns out that "Change You Deserve" is already the registered advertising slogan of Effexor XR-- which treats "depression, generalized anxiety disorder, social anxiety disorder, and panic disorder in adults." It's common side effects are nausea, apathy, constipation, fatigue, vertigo, sexual dysfunction, sweating, memory loss, and "electric shock-like sensations also called 'brain zaps.'"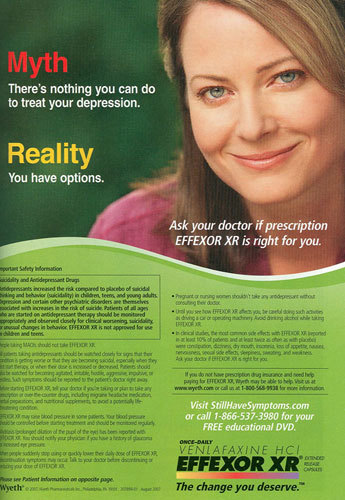 Maybe it's what we should all be on to get us through the McCain candidacy? I know I've already got the nausea and the apathy, and Bob Dole--our last truly horrible nominee--can help with the worst of the rest of the side effects. He'll hook you up, I hear. And they say we don't have a prescription drug plan.
John McCain's New Ad...
March 7, 2008 03:58 PM
...is excellent.
Of course, I would never vote for someone because of a campaign ad. But that's just me, and a lot of people don't think that way.
How funny is it that the Democrats are calling each other names, and the McCain campaign is producing video like this?
Ann Althouse has excellent commentary up on the visuals, from the subtle references to "The Color Purple" to the LBJ daisy ad. I suspect there's more there, if you look. This was very, very well thought out.
Is the Secretary of State taking on the "Limbaugh Effect"?
March 6, 2008 02:29 PM
And if so, to what ends?
From the Enquirer's Politics Extra:
Brunner's staff has begun to call counties to find out how many crossover voters there were and how many 10x forms were filled out by pollworkers if someone switches parties within two years.

"Once we start to gather the figures of what rate of crossover was, then we can start to dig into . . .what some of the motivations were."
Why is she digging into what some of the motivations were? How is that an appropriate area of concern?
And what about this?
She does plan to ask counties for statistics and details on voters who signed forms attesting that they switched political parties.
Gathering statistics doesn't concern me. Gathering "details on voters" does.
Is she going to also look at the McCain Effect from 2000? That was when Democrats in Ohio voted for McCain in the Republican primary to slow down George W. Bush.
I say what's good for the goose is good for the gander. And I think you're playing with fire when you start looking at voter's "motivations."
Jean Schmidt is more popular among Republicans in Ohio 02...
March 5, 2008 09:00 AM
...than John McCain is among Republicans in Texas. Jean won her district with 57%. McCain won Texas by 51%. Texas!
Don't tell me John McCain doesn't still have a lot of work to do convincing Republicans to go out and vote for him.
For the first time, I walked in to the polls not knowing who I was going to vote for.
March 4, 2008 09:07 AM
The temptation to cross party lines and vote for Hillary was very, very strong. Having her continue to battle it out with Obama is very good for the cause. But in the end, I couldn't do it. The woman in front of me did, though. And I know a lot of people who were considering it. When you switch parties, you have to complete a form that says you swear "to uphold the principles of the Democratic party." Well that wouldn't be too hard--since they have no principles.
How's that for an obvious joke?
Anyway... I placed my protest vote for Mitt Romney. Not that it will matter in the end. My protest vote in the 2000 primary didn't matter either.
I did get to vote in all the down ticket Republican races. For Congress, I voted for Jean Schmidt. Over at WMD, they've pretty much summarized my thoughts on that race, so I won't repeat it all here. The only other contested race was Pat DeWine v. Kathy King for Judge. I voted for Pat, since he's pro-life, and Kathy is not. For most of the other judicial races, I refrained from voting for the party's endorsed candidates. Most of the people they put up are total chuckleheads--though it was a nice reminder of how glad I am that I litigate almost entirely in federal courts these days.
And of course, I voted against the Cincinnati public school levy and the zoo levy. The only way I'd get behind either of those two organizations would be if they switched missions. Let the zoo put the CPS students behind bars, and let the schools educate the animals. We'd end up with a safer community and a more intelligent workforce.
I'm kidding of course. Well, slightly kidding.
The campaign (thus far) of the man we were told had the best chance to win
March 3, 2008 02:00 PM
The Politico has a look at how well it's going:
McCain was accused of having a romantic relationship with a lobbyist by The New York Times (he vehemently denied it). The DNC filed a complaint against McCain with the Federal Election Commission questioning whether he is violating the spending limits imposed on a campaign that takes public funds.

Mike Huckabee continued to nip at McCain's heels, postponing a full pivot to the November race. And just last week McCain had to spend part of two days denouncing ostensible allies and apologizing to Barack Obama for the use of his middle name.

Oh — and Obama and Hillary Rodham Clinton raised more than $130 million combined in the first two months of the year.
That $130 mil is an estimate, we don't have the February numbers yet for Obama. We know McCain raised $12 million in January, and it is estimated he raised about that much in February. So about $24 million. A pittance, considering how much the Democrats are raising. Especially Obama.
See what a difference it makes when the base is passionate about the candidate?
And, wouldn't it be ironic if the man who brought us modern day campaign finance reform were unable to finance his campaign? Some might even say that's poetic justice. Not me, of course. Just some people.
So, who did John McCain appear on stage with, the day after LocalRadioGate '08?
February 28, 2008 10:29 PM
John Hagee, an influential pastor in the "Christian Zionist movement." Whatever the hell that is. Senator McCain was on stage with Pastor Hagee to receive his endorsement. Has Pastor John Hagee ever said anything controversial? Anything John McCain might want to repudiate? I dunno... let's see...
Bill Donohue of the Catholic League is objecting Hagee's extremist writings, particularly his denunciations of the Catholic Church. For example, Donohue pointed to instances in which Hagee has referred to the Catholic Church as, "The Great Whore," an "apostate church," the "anti-Christ," and a "false cult system."
Okay. So we know what he thinks about the Catholics. What about the Jews? Well, Pastor Hagee says that the Jews have been persecuted throughout history because of... what? ... their failure to accept God.
Wanna see Pastor Hagee in action? I bet you do.
But Bill Cunningham? He's the bigot.
McCain Refused to Condem Supporter for Calling Hillary Clinton a B****
Let's go back in history, shall we? Waaaaaay back to November of last year. The scene? Hilton Head, South Carolina, and a woman at a Q&A who asked John McCain:
"How do we defeat the bitch?"
And what did Senator McCain say in response? Here was the take of his frenemies at The New York Times:
Mr. McCain was obviously uncomfortable, trying to deflect the vitriol with humor and offering to give a translation. But he did not condemn the questioner, instead calling it an "excellent question."
Here's what I think is an excellent question: Why the hell should I help John McCain get elected President this November?
From the "still not getting it" department: Mike DeWine on LocalRadioGate '08
DeWine says to the Enquirer:
"I can't believe in the end that voters are going to make a decision in November based on what John McCain said about Bill Cunningham in February," DeWine said.
How quaint. He thinks the latest uproar with the base is about McCain repudiating Willie. It's not. It's not that at all. It's that this is YET ANOTHER EXAMPLE of McCain throwing a conservative under the bus. And when you throw enough people under the bus, you will wake up one day and find that there is no one left to speak for you. Will that be in November? We'll see.
McCain Local Radiogate '08
February 27, 2008 03:55 PM
Just how many people did the McCain campaign manage to offend when they were in town? Here we have the producer of 55KRC's morning radio show, chiming in about the treatment he received from the McCain camp. Take it away, Joe Strecker:
As you know, it's Ohio's turn to be in the spotlight, for the last 2 weeks, I have been pitched and pitched AND PITCHED every person under the sun to stump for Sen. McCain. As agreed to by his PR, if I put guests on to stump for Sen. McCain, he would be made available to 55KRC when he came to town (2/26)...

Well here is the email reply I received from the McCain camp

"I don't think for tomorrow, things are pretty set by now. " Rebecca - McCain 2008

As you can tell by my response, I was a little upset.

"I am getting a little frustrated. 55KRC is / has a very Conservative base...Much more than a lot of people think. These are the voters Sen. McCain needs to win over. Since the election started, most of our callers initially were Thompson fans, then when he dropped out, Paul and Romney fans. If there are any listeners/voters to win over, it would be 55KRC's. I hope you reconsider. We could do just 5 minutes on his drive up from downtown to West Chester?"

Here was my reply.

"I'm sorry but the decision is not mine. I recomended you to the higher ups for the exact reason you mentioned. I will try to ask again when I can but right now I am stuck." - Rebecca McCain 2008

I find out at 10:30 yesterday that McCain was on with Mike McConnell, who McCain called "Bob". I called Rebecca, and when she said on the phone he wasn't available, I told her he is on right now with WLW. >>>Silence<<< then she told me "Can't you just use their audio??" You have to be kidding me..I let her know that we will let our listener's know what happened.

Now, I do understand this is a business and we constantly try to scoop the other guys, but for McCain's people to actually go back on their promise and to act the way they acted and treated the station with the listener's he needs to convince, is just reprehensible. This proves to me what kind of person he is. Why? You surround yourself with like minded people. If his 'people' don't care about you '55KRC listener' vicariously he doesn't care about you '55KRC' listener....

What's even funnier is that last night at 9PM, I received a pitch for another guest to stump for McCain. I don't think I'm going to book them..
I honestly don't know why he'd even consider it. And it's more than a little concerning that they're willling to put a candidate's supporters on the radio in exchange for the big "get"--i.e. an interview with the candidate himself. I suppose that's the way the media game is played, but it doesn't speak well of its participants. When you whore yourself out, Joe, don't be surpised when you get stabbed by jack the ripper.
And again, how stupid is the McCain camp for missing the interview? Joe is totally right that the Morning Show's audience is exactly the people McCain needs to be reaching out to. But there's just little or no effort.
It's almost a parody of a well-run campaign. "Can't you just use their audio?" Um no. Have they ever worked with the news media before?
John McCain Comes to Southern Ohio to Make Peace with Conservatives, and Promptly Throws Bill Cunningham Under the Campaign Bus
February 26, 2008 01:44 PM
The same Bill Cunningham who has worked tirelessly for Republican candidates and conservatives causes for years--usually using the same kind of rhetoric that he used today. From the Enquirer:
Cunningham came out on stage to whip up the crowd as he often does at Republican campaign events in Cincinnati. He repeatedly referred to Obama using his middle name -- Hussein -- and said that Obama was a product of the "Chicago-Daley mob."
Nothing untrue, and nothing unusual there. Willie had similarly direct comments for Al Gore in 2000 and John Kerry in 2004.
So what does the McCain camp do? His aides get all bent out of shape, and have McCain (who didn't even hear the remarks) trot out after his speech to "repudiate" Willie:
Only minutes after his campaign rally ended, McCain apologized for remarks by WLW talk show host Bill Cunningham that McCain said he thought were offensive to Obama.

"I take responsibility and I repudiate what he said," McCain told reporters after the rally.
Not the way to make Republican friends in Southern Ohio. Oh well. Who needs Republican friends in Southern Ohio?
McCain went on to explain the approach his campaign will take:
"I will not tolerate anything in this campaign that denigrates either Sen. Obama or Sen. Clinton,'' McCain said.
And what does that remind me of? Another 700WLW personality, Marty Brennaman, who got in hot water last year for comparing one of the Reds' West Coast roadtrips to the Bataan Death March. Because that's what this campaign with John McCain is going to be.
One long Bataan Death March.
UPDATE: Clerk of Courts Greg Hartman is now on Willie's show blaming "the media," and saying this goes to show how Republicans won't get a fair shake this fall. But the media weren't the ones who apologized for, and repudiated, one of the region's most prominent conservative voices.
A reader contributes: Politically Incorrect Ads of Yesteryear
February 22, 2008 09:25 AM
I can envision my ancestors eating sanitized tapeworms to help shed some pounds. That's just the kind of people we are. Practical.
Lots of cigarette ads in the bunch:
I like how the Doctor invites you to test Camels in your "T-zone" for thirty days. T for Throat, T for taste.
And this one? Well, it reminds me of John McCain:
Yes, Thorazine "can control the agitated, beligerent senile and help the patient to live a composed and useful life."
More Politically Incorrect Ads of Yesteryear are available here. Thanks to the reader for sending them in.
Romney gives McCain a lesson in class
February 15, 2008 09:09 AM
From Politico's coverage of yesterday's endorsement:
Despite the at-times ugly exchanges between the two during the past year, today's press conference, while not full of warmth, was not especially stilted.

The difference was especially stark compared to the last GOP nomination battle in 2000. As opposed to the week Romney took before endorsing, it took two months for McCain to get behind George W. Bush after that bitter contest. And when he did so in May of that year he initially declined to use the word "endorse." Only after being asked by a reporter why he wouldn't formally offer his blessing did McCain say "I endorse Gov. Bush" -- and then he said it over and over again as if to show his annoyance.

Romney today was gracious, lavishing praise in prepared remarks on the man who defeated him.

"This is a man who tied his political fortunes to the fortunes of his country in a time of war," Romney said. "Such courage is not always rewarded in politics, but it was this time – and that is a credit to both the man and to the party he will lead in the election of 2008."
I had forgotten it took McCain two months in 2000 to endorse Bush. Certainly takes the wind out of the sails of those who say we should all be running out to endorse McCain now, doesn't it?
"Luckily, I agree with my party more than Senator McCain agrees with his party."
February 12, 2008 10:23 AM
Thank you,
Hillary Clinton
, for identifying the problem with the McCain nomination.
Arianna, what color is the sky in your world?
From the Huffington Post:
I hate to be the one to break up a love affair, especially with Valentine's Day just around the corner, but I can no longer stand idly by and watch the media and independent voters continue to throw themselves at the feet of John McCain.

The John McCain they fell in love with in 2000 -- the straight-shooting, let-the-chips-fall-where-they-may maverick - is no more. He's been replaced by a born-again Bushite willing to say or do anything to win the affection of his newfound object of desire, the radical right.
What the hell?
Arianna, what color is the sky in your world?
From the Huffington Post:
I hate to be the one to break up a love affair, especially with Valentine's Day just around the corner, but I can no longer stand idly by and watch the media and independent voters continue to throw themselves at the feet of John McCain.

The John McCain they fell in love with in 2000 -- the straight-shooting, let-the-chips-fall-where-they-may maverick - is no more. He's been replaced by a born-again Bushite willing to say or do anything to win the affection of his newfound object of desire, the radical right.
What the hell?
Fox News accurately, but accidentally, identifies John McCain's party and home state
February 8, 2008 10:10 AM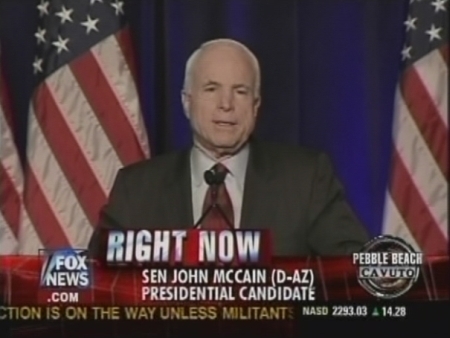 When people like Dick Finan say they may stay home in November instead of voting for McCain...
February 7, 2008 05:19 PM
...it says a lot:
Finan, one of the first Ohio Republican party leaders to endorse Romney, said he believes many Romney supporters around the state will have a hard time voting for McCain in the fall campaign – and, he said, he is one of them.

"I might just have to sit it out,'' said Finan. "Some of them, obviously, will vote for McCain over whoever the Democrats put up. But some of them just won't."
Dick Finan is a conservative Republican, but he's not some unhinged radical. He used to be President of the Ohio Senate, for crying out loud. He's a total party player, but he's not willing to party with McCain. Incredible, really.
One good thing about McCain...
...now we don't have to hear Mike Dewine trying to get us all to vote for his former Senate colleague. Dewine was running McCain's campaign here in Ohio. And Mike Dewine basically embodies everything the base of the party doesn't like about McCain.
For the general, I'd strongly suggest to the McCain camp that they find a different "troop-rallier" as we head into the fall. Republicans here don't like Mike.
McCain seeks a truce with conservatives
Politico describes his two-pronged pitch:
Prong one: McCain is not really so bad, is quite conservative on spending and the Iraq war and is far better than the alternative come this fall. Prong two: The time has come to stop stewing and get on board.
Patronizing. And typically contemptuous. I'm not ready to make nice, and I sure hope others aren't either.
Because the depressing news can't start early enough, here we have the signage that helped John Derbyshire figure out where to vote...
February 5, 2008 04:33 PM
Welcome to John McCain's dream world.
From The Corner, at NRO Online.
McCain discussed switching parties in 2001
February 1, 2008 08:46 AM
Sen. John McCain (R-Ariz.) was close to leaving the Republican Party in 2001, weeks before then-Sen. Jim Jeffords (Vt.) famously announced his decision to become an Independent, according to former Democratic lawmakers who say they were involved in the discussions.

In interviews with The Hill this month, former Sen. Tom Daschle (D-S.D.) and ex-Rep. Tom Downey (D-N.Y.) said there were nearly two months of talks with the maverick lawmaker following an approach by John Weaver, McCain's chief political strategist.

Democrats had contacted Jeffords and then-Sen. Lincoln Chafee (R-R.I.) in the early months of 2001 about switching parties, but in McCain's case, they said, it was McCain's top strategist who came to them.
Why is this just now coming to light?
Evaluating the candidates' bumper stickers
January 27, 2008 08:16 AM
I've already said I can't imagine putting a Huckabee sticker on the back of my car. That's mostly because it's such a hill-jack name, backed up by a hill-jack personality. Graphic designers have a problem with the aesthetics, too:
Huckabee has the most inexplicable selection of typography and graphics, from the six floating stars to the white stripe seemingly stolen from the Coca-Cola logo. The overall effect is clutter. The main typeface, used to set the candidate's name, is very tightly spaced, or tightly tracked, as typographers like to say. Some letters, like kab, are actually touching each other. Then "Mike" is tucked in between the H and k as if "we almost forgot to tell you his first name." Setting FAITH. FAMILY. FREEDOM. in such a thin weak sans serif feels as if it was added as a committee compromise or an afterthought. The type is too light, too small, and does not have a real voice.
They're right. It definitely has an "I've never done this before" kind of look to it. Kind of like he stopped by a Minuteman Printing on the way home one afternoon and said, "Shirley, what can you come up with?"
At the opposite end of the extreme: John McCain. I have my problems with him on the issues, but his campaign graphics are fantastic. Mrs. NBS and I actually discussed this a few weeks ago, and when you have people actually discussing how much they like the bumper stickers for someone they're not going to vote for, it means the designers hit a home run. Here's what the experts say:
McCain uses type that is a perfect compromise between a sans and a serif, what type geeks call a "flared sans." Not quite sans and not quite serif, sort of in between, moderate, not too far in either direction. The strokes have contrast between the thick and thin, creating the feeling that the ends are going to have cute little serifs, but they just flare out a little, not forming actual serifs but wanting to. The military star centered and shadowed is a not-so-subtle touch. And McCain just says "President," as if to say he's already been elected. Everything about this logo says you can buy a car from this man. From the perfectly centered star to the perfectly spaced type, the entire design looks like a high-end real estate company. McCain has done something no other candidate has done, he uses all blue, no red - not even a dash.
And the blue he uses is almost a black. With the white star, it looks very, very crisp. Lean. Trim. Fit. Very "I'm more than Harrison Ford in Air Force One could ever even dream of being."
On the Democrat side, the graphic designers say the winner is Obama. I'm actually not wild about his design. Doesn't it look...too liberal? John Edwards got the (supposed) working class mantra right with his simplistic "my shift ends at 1:00 a.m. and I'm pissed" look. And Hillary's graphic? Exactly like bumper stickers always look. Boring. What's she running for, state rep.?
The Candidates' Homes, an NBS Tour
January 17, 2008 02:59 PM
Of course, Mother Jones put these photos up because they want you to think we're ruled by monied, hypocritical, gas guzzling aristocrats, no matter which party wins. I'm putting them up because real estate is porn for married people. So let's begin!
Here's Huckabee's house. Not surprisingly, the candidate that I like the least has the house I like the least. It's weighs in at 5,124 square feet, with a deck and a swimming pool. It's also boring, and has atrocious landscaping:
Here's Rudy's pad in New York. I really can't relate to it, but it's got a Walnut-paneled dining room and a cigar room. I don't smoke, but I like the sound of that. There's no rule that says you can't use your cigar room as a drinking room.
The McCains do the tall building thing too, but theirs is a $4.7 mill condo in Phoenix. They also have a ranch in Sedona, which was profiled in Home & Garden. I think I also saw it in Architectural Digest a few years ago. It was nice. Better than their condo, anyway:
Turning for a minute to the other side of the aisle, here's Hill and Bill's place in Westchester County. I have no problems with it, and it certainly comports with whatever their pollster told them to buy. I just wonder if they've ever seen it themselves?
Can't you just feel the love radiating off of the Clinton's house? You know it's just a place of intimate diners for two, and passionate, romantic interludes. When Hillary's in D.C.
The Obamas' place in Chicago is also nice. And, it has a 1,000 bottle wine cellar. Me like the sound of that! Party at the Obamas! They need to learn to bring the trash cans back up promptly though. How rude.
You've already heard me opine in the hideousness of the Edwards home in North Carolina. It is too big (21,000 square feet). And it has an indoor basketball court. They also have a beach house in North Carolina. Presumably it's more suitable to his "Two Americas" crap than this is:
Here's one that's big and tasteful. It's the Romney's ski retreat in Park City, Utah. Looks like a house the Bushes would own. Mitt has residences in several states, I believe. Mrs. Romney must do a lot of dusting. Of course, when you don't smoke or drink, what else is there to do?
NBS is ready to call the winner in the taste department, though. This is the Thompsons' house in McLean, Virginia. A seven bedroom, five bath stunner with a real Presidential air.
Gorgeous.
Does anyone actually believe Hillary Clinton's favorite tv shows are Grey's Anatomy, Antiques Roadshow, American Idol and Dancing with the Stars?
January 16, 2008 03:34 PM
I mean seriously. What campaign aide made this shit up? Dancing with the Stars? You know she spends her nights throwing popcorn at Chris Matthews. I mean come on. You know she does.
I do see her watching Grey's Anatomy and Idol, though. They're probably the training videos she uses to teach herself to cry on command. And Antiques Roadshow? Probably reminds her of the White House furniture she and Bill stole when they were on their way out the door in January, 2000.
No way she watches these shows to be entertained by them. No way.
And on the Republican side... John McCain. Prison Break? Are you kidding me? The reason he gives:
"...because as a fellow prisoner, I always dreamed and plotted how I would break out of the Hanoi Hilton."
Ridiculous. Surely, he must think we're idiots.
Why we can't nominate McCain, in cartoon form.
January 11, 2008 09:29 AM
So who's actually in the lead where it matters (the delegate count)
January 7, 2008 04:15 PM
The Green Papers is keeping track, and trying to make sense of the ridiculously complicated rules. After Iowa and Wyoming, we've got:
Romney: 17

Huckabee: 13

Fred: 8

McCain: 5

Paul: 4

Rudy: 1
You need 1,259 to get the nomination, so nobody is even close. For the Dems, Obama's got 16, Hillary's got 15 and Edwards has 14. That's just after Iowa. The Dems didn't do Wyoming yet. Bet you didn't know Hillary got more delegates from Iowa than Edwards, even though she finished with fewer votes. Further proof that the system makes no sense.
Can you imagine putting a sticker that says "Huckabee" on the back of your car?
January 4, 2008 08:57 AM
Me either.
The Iowa Results
January 3, 2008 11:00 PM
Hillary in third? A dream come true. True, I'm not being astute, because she's the easiest to beat in the general election, and all good Republicans should root for her in the primaries. I'm not one of that crowd. I want her, and him, gone.
As for the Republicans? Bad, bad, news for conservatism tonight. There is now a real possibility that we will be dealing with three major Republican candidates--Huckabee, McCain and Rudy--and not have a conservative among them. That's a sad, sad day. And a recipe for disaster in November.
Maybe it's just time to tune out, drop out, and make as much money as possible with the real job, since Edwards and Huckabee want to redistribute such a huge proportion of it.
Iowa. So what's the dream scenario for tonight?
I'd just love the Republicans to poll as follows:
(1) Romney, (2) Huckabilly, (3) Ron Paul, (4) Fred Thompson, (5) McCain and (6) Rudy.
Why? Because Romney is the well-rounded conservative in the case (other than Thompson, who can't win). Huckabee at No. 2 because well, that's just where he's going to be if he doesn't get No. 1. I'd like Huckabee to poll lower (last, actually), but that's just not possible. I'd like Ron Paul at No. 3 because I will delight at the gnashing of teeth. Fred at 4 because that's the only way Paul gets the 3 slot, and because Fred needs to drop out. McCain at 5 because we want to burst the latest "we love John McCain" media bubble before New Hampshire gets out of control (if it is not already). And Rudy at 6, just because he's not trying in Iowa at all.
As for the Democrats, I'd love to see:
(1) Obama, (2) Edwards and (3) Hillary.
Why? Because OH MY GOD if Hillary Clinton finishes third it would be just about the happiest day I could possibly ever have. Obama in first because he's not John Edwards and because if Edwards finished first he may actually win the nomination and that would be a disaster because he could actually be elected President. And we do not want that.
Can you imagine what tomorrow morning will be like if Hillary Clinton and Ron Paul both finish third in their respective primaries?
So I'm ready for a glass of wine, a spot on the couch, and Henry (the black lab) in his wing-back chair. Hopefully Shepard Smith is still on vacation. His annoying face is the only thing standing in the way of a great evening.
For the real political junkies...
December 10, 2007 10:52 AM
...National Review's David Freddoso is talking about a brokered Republican convention, because there is no frontrunner (except Rudy, kind of).
You see these articles every four years and it never happens. But it does seem a good bit more possible this time. I know a few of Fred's Ohio delegates. Could get interesting for them, though it's more likely to be interesting for the delegates of candidates who are actually playing to win.
Up-chuck Huck is looking for delegates if you want to be one, and so is McCain. One of my dinner companions on Saturday night was an Up-chuck fan. And another was threatening to not even vote Republican at all; too much tax and spending, so he's threatening to plunge us all into economic misery with a crowd who would be even worse, just to exact his revenge.
So who did I think won?
November 29, 2007 09:16 AM
Nobody, hand's down. Huckabee seems personable, but he's lost on the tax issues. You can just tell he has an improper understanding of the role government is supposed to play.
Ron Paul...right on the tax issues, but lost, lost, lost on foreign policy. Why does he play ball with the whackadoos? The only possible conclusion is that he's a wackadoo, too. I'm glad he's on the stage though.
McCain's right on foreign policy, but I just can't get over all the crappy ideas he's had in the past about domestic policy. Campaign finance. Immigration. And the way he continually implies that people who are opposed to illegal immigration are racist. And he doesn't believe in torturing terrorists. Ridiculous!
Rudy did well, but came across as petty. I think he was coached too much. The attack on Romney for having a "sanctuary mansion" was just silly. Toss the campaign worker who thought that would be a witty phrase.
As for Thompson? What can I say? He's still such a disappointment. Where's the passion? Where's the personality? It's just emptiness. He barely did one thing during the debate that was memorable. No wait. He didn't do ANYTHING during the debate that was memorable.
So who does that leave? In my mind, Romney who had the most well-rounded result. He flubbed a few questions, but overall, the presentation works for me, and so do the policies. He's personable, but firm. I call Romney the winner.
I'm still undecided, though.
UPDATE: I accidentally deleted several comments. I get several thousand spam ones a day, so sometimes accidents happen. Sorry!
Yes, NBS is liveblogging the CNN Youtube Debate!
November 28, 2007 08:56 PM
Out comes The Coop. He's apparently the moderator.
The Chair of the Florida Republican Party is going to introduce people. Oh no, his eyes are set to close together.
No wait, it's going to be the Governor of Florida who introduces the candidates. Charlie Crist. He's absurdly tan. Melanoma city! Looks suspiciously like Anderson Cooper.
What's next?
Photos. Boring. CNN's talking heads are talking. More boring than the photos! Sub story of the night: Is CNN going to remotely pretend like they have their candidate on that stage? Or not even bother?
So while they're doing that… what do I think of the premise of this? Asinine questions from the public? I think it could be fun, and let the candidates show some personality. Thank God we are past the days of having that boring PBS guy moderate the debates. Who cares about him! I want to see the snowman!
The first question: a gi-tar player from Washington. Okay, he's too long on the riff.
Fred Thompson—wrinkly. Is that what the country needs right now? McCain pretends to be entertained. Awww they actually have the guitar player in the audience. He's embarrassed. As he should be.
The first real question to Giuliani: sanctuary cities in NYC. He supported it! Giuliani says no, it wasn't. We sent them back if they committed crimes. Oh wait, there were exceptions. The kids got to go to school, and they have emergency care. And they could report crimes. Whoop dee dee. He then talks about what he will do with illegals. Too many ideas, too little time to type.
Romney: Yes it was a sanctuary city! Mitt looks good. Hair looks a tad dark though. She didn't get the mix right!
Back to the G man: Mitt has the worst record. He had a sanctuary mansion at his own home! Illegals in Mitts own home. Oh please, who cares. Good help is hard to come by.
Mitt: you know better than that. No illegals in my mansion! They were illegals hired by my contractors. I'm with Mitt on this one. That does not a sanctuary mansion make.
G: Holier than though attitude from Mitt! Again, an unfair attack.
Is anyone else running but Mitt and Rudy? The Coop says we've got to run. But Mitt and Rudy ARE the front runners, you know.
Next question: People want to come here LEGALLY. But the Senate wants amnesty. Will you veto any amnesty bill? Thompson says he will. Good for him. Totally with him on legal immigration, I know someone from Peru who would make a great citizen, and she's about go home because her visa's done. If she just flew to Mexico and walked in, she'd be fine.
Fred also wants us to know that Romney supported the Bush immigration bill. And then he goes after Rudy, too. We've all hired people and it's been a bad decision.
Hey, what's he saying, that Republicans have lots of house hold help? Where's my household help? Roberto, martini. STAT!
McCain: we never proposed amnesty. That's basically a lie. Boo! He says we need people to pick the cotton (in not so few words). We have learned the people want the borders enforced. Why did they have to learn that?
Immigrants are God's children too, he says. Implies that people who oppose illegal immigration are racist. So double boo to McCain!
Next up: More on immigration. We can't run our business without our guest workers. Oh what crap, questioners. Pay your employees more, and raise your prices. Why should you get labor on the cheap?
Tancredo: Says what I just said. But was nicer.
Hunter: He built the border fence in San Diego! But, not himself, it would appear. Crime went down 53%.
Going to get Henry a frosty paws while these non-tier people are talking.

Huckabee: I never gave favors to illegals as Governor of Arkansas!
Is this whole debate about immigration? If Republicans want to win next fall, the debate will be then. People are hot about this.
Romney: Huckabee reminds me of a liberal in Massachusetts. Hits him on the taxpayer issue. Huckabee is weak on that. No favorable tax treatment for illegals.
Huckabee: I had to pay my own way through. I might have needed government support or I'd be picking lettuce. Boo hiss! He just lost me.
Romney: no tax funded benefits to illegal kids is better than what others get. That's the issue.
Next question: For Ron Paul: your supporters are conspiracy freaks!
Ron Paul: Oh my God, he does talk about the Trilateral Commission. There is a move for a North American Union. It's a conspiracy of ideas. Whack. Job. Millions of acres in imminent domain taken for a highway to Mexico! I'm with him on not liking the U.N. But I think the other candidates are too.
Next question: the economy. A co-ed wants to know about trillions spent on national debt. Oh please. This is not a concern of hers.
McCain: Republicans have forgotten about spending and greatly expanded government. He's right about that. But what was he doing to stop it? He saved us $2 mill on a bogus deal. Big deal!
Romney: Every bill with pork must be vetoed. And there must be fundamental change. Go after the entitlements. So I like Romney at this point. But I'm not believing he's going to veto every bill with pork in it.
Rudy: across the board cuts at every agency, like Reagan did. That sounds great! Bush should do this now. Yes he should!
Next question: limited government by reducing federal spending was what we used to believe. What programs would you cut?
Fred: lots of 'em. But he doesn't name a single one. Reform Social Security and Medicare need reform. But oh no, we're not going to cut them. Re-index the way benefits are calculated. Not revolutionary enough. By far.
Ron Paul: Washington didn't change me. He's certainly right about that. Cut Department of Education, Energy, Homeland Defense and foreign aid. Amen.
Huckabee: Get rid of the IRS. He claims he's serious about this. Revamp Homeland Security, it's a mess.
Question for McCain: Eliminate the federal income tax for a retail sales tax? McCain says no. Look carefully at it. We need a commission, and do what we do with base closings. Oh great. That's a wonderful way to de-politicize it. Also: Paul's brand of isolationism is what caused WWII. Right about that. Also, the troops don't like you, Ron.
Paul: Why do I get the most $ from active duty personnel? McCain doesn't understand the difference between isolationism and non-intervention. I believe in non-intervention. I guess I don't see much of a difference in that either.
Question: A no new tax pledge? Oh the question was from Grover Norquist. I met him during my Human Events days.
Everyone signs on to the pledge but Thompson and McCain. Paul has NEVER voted for a tax increase. Impressive.
Question from a rude guy eating corn. Why should we have farm subsidies? A question for Iowans! But I have to say, the Iowans are ridiculously greedy on this. No farm subsidies! Romney's on the wrong side of this. He wants to win in Iowa. Boo. Rudy agrees. Boo, again.
Question for Rudy: he used expense accounts improperly as Mayor. True or not? Rudy: I had threats; I had nothing to do with the handling of security records.
All the campaigns have submitted videos. They better be good.
Tancredo's is bad. He speaks poorly in his own video, with weird clips of Hillary.
Question: There is lead in our toys from China. And we adopted a baby from China! The kind of question I hate. The one where the questioner is totally self-absorbed.
Tancredo: we need a new trade arrangement with China.
Hunter: China is cheating on trade, to buy planes and missiles. Tells us to buy American. I hate that line of thought too. Make a competitive product and I'll buy it.
Fred's vid: attacks the others as not conservative. It's a piss poor video, though.
Romney: I WAS WRONG ON ABORTION. I was WRONG. I changed my mind as Governor. The first time it came to my desk, I came down on the side of life. I am proud to be pro-life. Satisfies me.
Huckabee: I did too oppose taxes. I am a fiscal conservative.
Finally, a break!
And we're back. Barely enough time to let Henry out and pour a glass of petite sirah.
I did miss some. They're talking about guns. I would certainly hope they are all in agreement about this. If not, they're toast.
Question, tell us about your gun collection? The Coop thinks the questioner is a freak.
Thompson: I have a lot of guns. Won't tell us where, though. Witty, but sounds like a dodge
McCain, I know how to use one. I don't own one. Weird. But, if I had been tortured, maybe I wouldn't keep guns around either. Special dispensation on this for the previously tortured.
Booo. Romney doesn't own guns either. It's just McCain and Rudy who don't
Next question: Black on black crime.
Romney: We need moms and dads. He's right, there's been a total collapse of the family structure in the African American community. Cites Bill Cosby. Civil rights issue of our time is the failure of inner city schools. Great point. Wish he'd followed up with school vouchers.
Rudy: Romney has a mixed record on crime. Rudy is on the attack. Rudy says he has a strong record on crime. True. He took NYC from a very dangerous city to a very safe city.
Romney gives him credit for that. Says I was not a mayor, I was a governor. Again, I agree with him on this. Crime is a local issue. Not a state issue, and certainly not a national way. Say no to a nationalized criminal code!
Question on abortion: What if it becomes illegal? Sweet cheeks, it's not going to become illegal. It would be a states issue and the public would get to decide through the political process. You have nothing to fear. Paul understands this.
Thompson: Overturning Roe should be our No. 1 focus right now, and that pertains to judicial appointments. Amen. But I just don't believe this would be his No. 1 priority.
Question: another question on Roe. He says what would you do if Roe is reversed, and Congress imposes a federal ban, would you sign?

Rudy says no, leave it to the states. He's right.
Romney: Overturn Roe. I would be delighted to sign such a bill if it were the consensus. But we are not there as a country. Leave it to the states.
Question: the death penalty: what would Jesus do? A good question!
Huckabee: I've done it as Governor, the others haven't. He took it very serious and sincerely, it seems. There is a place for the death penalty, he says.
He avoids the theological question about where Jesus would be on the death penalty.
Coop asks the question again.
Huckabee: Jesus was too smart for to ever run for public office. Good response. I wouldn't answer that question either.
Question: Do you believe every word of the Bible. Specifically. Weird questioner. An attack on Romney's Mormonism?
Rudy gives an intelligent, thoughtful response, and seems to have a sound theological understanding.
Romney: The Bible is the word of God. I believe in the world of God. I may interpret differently. He's off his footing here.
Huckabee: It is the word of revelation to us from God himself. Quotes a few of the greatest hits. Let's work on Love Your Neighbor first. No one is ever going to understand all of it.
Romney's vid. Hits on the big conservative points. Looks professional. Good spot. But not a typical youtube video.
Break and we're back.
Rudy's video: Funny. Youtube like. Best one of the night!
Question: a Muslim lady from Alabama. What would you do to repair the image of America in the Muslim world? Please, this chick is not a Republican primary voter.
Rudy: Be tough on terror. He refused to get sucked in by the premise of the question. Excellent, excellent response.
McCain: Continue the surge. Reconstruct Iraq. Fight the Democrats on a date for withdrawal. Criticizes Rumsfeld's strategy. But we'd be worse off under the Democrats' strategy, though, he says.
Question: Waterboarding. Do you support it?

Romney: The President should not limit our interrogation tactics. Does not seem to have a big problem with it. Interrogate terrorists.
McCain: He's totally opposed to waterboarding and torture. I know his background on this, and I know he was tortured. But still. I just don't have a problem with torturing terrorists. He's very passionate about this.
Romney: I am not in favor of torture, but I am not going to pick what is and is not torture. I will let the counter terrorism experts make that decision.
McCain: They you have to advocate that we withdrawal from the Geneva Conventions. And why, really, shouldn't we? We're basically the only ones who honor it. McCain, still very opposed to torture. Life is not "24" he says. But maybe if it were, we wouldn't have to strip search grandmothers at airports.
Question: We should stay in Iraq long-term. Who supports that idea? Thompson: don't stay forever, but for as long as it takes.
Paul: Give them their country back. The surge hasn't worked. They're ready to be the next Vietnam. He's pretty ignorant, if you ask me.
McCain: we never lost a battle in Vietnam; American public opinion lost that war. Terrorists want Iraq to be a base to attack the U.S.
He gets booed. He's totally right, though. Why don't want people want to hear the truth about this?
Paul: It is irrelevant that we never lost one battle in Vietnam. The only reason they hate us is because we have bases in the Mideast. So clueless!
Screams and boos for him, now.
Tancredo: We are living in a world where we are threatened by radical Islam.
Question for Rudy: You're using 9/11 to propel yourself into the White House. True? Rudy: Look at my whole record. And then he goes on. And on.
God, this is a long debate. This may be the last NBS live blog, ever.
Next: Stupid question about Vice President Cheney. Why are people so paranoid about Dick Cheney? The only thing wrong with Dick Cheney is he's not running for president. Anyway, the question: How much authority will you give your VP?

Thompson: VP needs to be ready to assume the office, if necessary. Brings up judges again. Why is he bringing this up so much? It just seems so insincere.
McCain: Bush had to rely on Cheney's foreign policy expertise, because that was Cheney's area and we were at war. I would not have to do that.
Hunter's vid: It's another commercial. And it looks cheap. Looks like he's running for Congress, not President.
Another break. Have a Holly Jolly Christmas, and go to Playhouse in the Park to see Scrooge!
Question: A gay veteran wants to know what the problem is with gays in the military.
Tancredo: Blows the answer. Young enlistees are conservative Christians, and it would be unfair to them.
Huckabee: Conduct could put at risk morale, and cohesion.
Romney: The Coop points out a Romney flip flop on this. Romney: This is not a time to change don't ask, don't tell. Let the military decide this issue. Romney kind of flubs this.
The veteran says he didn't get an answer. But he did! He just didn't get the answer that he wanted. The Coop gives the veteran a long leash to go on and on about gays in the military. Gee, I wonder why?
McCain: Thanks for your service, but all the military people I talk to say don't ask, don't tell is working.
Next: Should gay Republicans support you?
Huckabee: Gives a funny answer. Hey, I'll take their support. But I won't change my mind on same sex marriage. Perfect response. Respectful. Kind. Firm.
Next up? Boring question about social security from a young person. Start saving now, young person," is just about the only honest answer. Let's see if we get it.
Thompson's response is so boring I miss it.
Romney: We can't follow Hillary to the left, but follow the path Reagan blazed. He certainly knows the talking points, doesn't he?
Question: We need a man on mars! What are you going to do for NASA?
Huckabee: Expand the space program. And let's put Hillary on the first rocket to mars.
Tancredo: No spending on crap like that! Excellent response. We can't afford to go to mars!
Question: African Americans hold conservative views, but vote for Democrats. Why don't we vote for you? I love this question. The Republican Party's failure to make this case is one of the tragedies of our time.
Rudy: School choice, welfare reform. We can be popular in African American Community.
Huckabee: African Americans vote for me. I asked for their vote. He then says he spends money on hypertension and diabetes, and they afflict African Americans more. Again with the spending!
And on the opposite extreme: Do you support Confederate flags?
Romney: With all the issues we face? No.
Thompson: Not everyone with a confederate flag is racist. But there is not a place for it in the public arena.
Paul's video: Very populist. Very isolationist. Not bad as a matter of form.
Question: We need new infrastructure, and it's going to be expensive. Let me guess? Huckabee will pay for it.
Rudy: We need a sustained program and long term planning.
Paul: We are taxed to blow up bridges overseas and our own bridges are falling down.
McCain: I will veto all pork.
Rudy: Blows it by saying he opposed the line item veto and (apparently?) took Clinton to court on this.
Question: Will you run as an independent, Ron Paul, if you don't get the nomination? He says no! I think.
Last question. THANK GOD. For Rudy: You are a life long Yankees fan, but still supported the Sox in the post-season. Rudy says he is an American League fan. Boo hiss! He almost ends on a weak note, but then has a good joke about how many times the Yankees won the World Series when he was Mayor.
Romney: My family hates the Yankees. He wasn't going to win New York anyway.
And that's it. Romney's got my vote.
More substantive thoughts later. I'm taking Henry outside.
UPDATE: I accidentally deleted several comments. I get several thousand spam ones a day, so sometimes accidents happen. Sorry!
New Poll: Top Five Republicans Can All Beat Hillary
November 27, 2007 09:07 AM
It's a Zogby poll, and a lot of people have trouble with his methodology. But still:
WASHINGTON (Reuters) - Democratic front-runner Hillary Clinton trails five top Republican presidential contenders in general election match-ups, a drop in support from this summer, according to a poll released on Monday.

Clinton's top Democratic rivals, Barack Obama and John Edwards, still lead Republicans in hypothetical match-ups ahead of the November 4, 2008, presidential election, the survey by Zogby Interactive showed.

Clinton, a New York senator who has been at the top of the Democratic pack in national polls in the 2008 race, trails Republican candidates Rudy Giuliani, Mitt Romney, Fred Thompson, John McCain and Mike Huckabee by three to five percentage points in the direct matches.

Democrats, please nominate her!
Reason why you don't campaign with your 95 year-old mother, No. 43
November 10, 2007 10:33 AM
Because she might say something like this:
"As far as the Salt Lake City thing, he's a Mormon and the Mormons of Salt Lake City had caused that scandal. And to clean that up, again, it's not a subject," Roberta McCain said.

John McCain quickly stepped in: "The views of my mothers are not necessarily the views of mine."

"Well, that's my view and you asked me," Roberta answered.
Hilarious. And the reason he trotted her out in the first place was to show he's not too old and wacky... because his mom's still with it at 95!
Totally reminds me of the time Newt Gingrich's mom told Connie Chung that Hillary was is a bitch. Misty memories.
UPDATE: Just saw McCain's plural reference to "mothers," which I'd assume was a typo if not for the subject/verb agreement. Freudian slip about the Mormons?
And while I'm complaining about my fellow Republicans...
October 9, 2007 11:29 AM
...let me also carp on the timing of tonight's Republican debate. I'm batching it tonight, so I thought I'd have time to watch it. Liveblog it, no less. But none of that is possible, because it's at 4:00 in the afternoon. Who in the hell has time to watch a debate at 4:00 in the afternoon? All the working (i.e. voting) people are still working. And the people who aren't working are watching Oprah. They're not going to flip over to CNBC to watch the Republican candidates talk economic policy. If a tree falls in the forest, does it still make a sound? I guess we'll find out.
And no, I'm not satisfied that MSNBC is replaying it at 9:00. I'm not going to liveblog a taped program!
What the heck is Fred Thompson doing?
September 19, 2007 08:51 AM
Dick Morris has a scathing column out in which he summarizes the news Fred has generated in the few short weeks he has actually been a candidate. And it's not a pretty picture.
•He refuses to take a pledge not to raise taxes;

•He lobbied for an abortion advocacy group before becoming a U.S. senator;

•He employed his son in a no-show job for $170,000 for four years at his political action committee after leaving office;

•As a lobbyist, he helped the attorney representing the Libyan terrorists who blew up Pan Am 103 over Lockerbie, Scotland, to fight requests to extradite them to the U.K. to stand trial;

•His other lobbying clients included Jean-Bertrand Aristide, the leftist Haitian dictator who, but for a lack of oil, would have been the Hugo Chavez of the last generation;

•He skipped and is skipping the first two debates of his presidential candidacy and said he was looking forward to attending the Oct. 14 New Hampshire debate -- the one that was cancelled weeks ago;

•He is taking this week off from presidential campaigning;

•He does not know enough about the details of the Terry Schiavo case to comment;

•He said that Iraqis were supporting us because of al Qaeda's ban on smoking;

•He's run through three campaign managers and as many communications directors in just three months.
Ouch, ouch, ouch. Half of those I didn't even know about. Has Fred gotten any positive press? And he doesn't even mention my number one concern about Fred, which is that people will tire of the folksy talk. And get very, very annoyed.
Don't get me wrong, I like Fred. I want to believe in Fred. I just don't understand why he's not giving people a reason to. Come on Fred, make your case!
And if you want more food for thought consider Morris's next point:
Hillary is probably the next president anyway. But there is only one way to defeat her -- to nominate a candidate whose anti-terrorism credentials are so deep that if Americans return to their senses and grasp the nature of the dire and continuing threat we face, he can prevail in November. There are two candidates who fill that bill: Rudy Giuliani and John McCain. Neither Thompson nor Romney approach it.
Rudy and McCain are hardly my preferred candidates. But I think Morris may be right about the political realities.
John McCain is one of my least favorite Republicans, but I do believe in giving credit when it is due
July 18, 2007 03:02 PM
From his speech on the Senate floor early this morning:
Surely, we must be responsive to the people who have elected us to office, and who, if it is their wish, will remove us when they become unsatisfied with our failure to heed their demands. I understand that, of course. And I understand why so many Americans have become sick and tired of this war, given the many, many mistakes made by civilian and military leaders in its prosecution. I, too, have been made sick at heart by these mistakes and the terrible price we have paid for them. But I cannot react to these mistakes by embracing a course of action that I know will be an even greater mistake, a mistake of colossal historical proportions, which will -- and I am as sure of this as I am of anything – seriously endanger the people I represent and the country I have served all my adult life. I have many responsibilities to the people of Arizona, and to all Americans. I take them all seriously, Mr. President, or try to. But I have one responsibility that outweighs all the others – and that is to do everything in my power, to use whatever meager talents I posses, and every resource God has granted me to protect the security of this great and good nation from all enemies foreign and domestic. And that I intend to do, Mr. President, even if I must stand athwart popular opinion. I will explain my reasons to the American people. I will attempt to convince as many of my countrymen as I can that we must show even greater patience, though our patience is nearly exhausted, and that as long as there is a prospect for not losing this war, then we must not choose to lose it. That is how I construe my responsibility to my constituency and my country. That is how I construed it yesterday. It is how I construe it today. And it is how I will construe it tomorrow. I do not know how I could choose any other course.
I cannot be certain that I possess the skills to be persuasive. I cannot be certain that even if I could convince Americans to give General Petraeus the time he needs to determine whether we can prevail, that we will prevail in Iraq. All I am certain of is that our defeat there would be catastrophic, not just for Iraq, but for us, and that I cannot be complicit in it, but must do whatever I can, whether I am effective or not, to help us try to avert it. That, Mr. President, is all I can possibly offer my country at this time. It is not much compared to the sacrifices made by Americans who have volunteered to shoulder a rifle and fight this war for us. I know that, and am humbled by it, as we all are. But though my duty is neither dangerous nor onerous, it compels me nonetheless to say to my colleagues and to all Americans who disagree with me: that as long as we have a chance to succeed we must try to succeed.

I am privileged, as we all are, to be subject to the judgment of the American people and history. But, my friends, they are not always the same judgment. The verdict of the people will arrive long before history's. I am unlikely to ever know how history has judged us in this hour. The public's judgment of me I will know soon enough. I will accept it, as I must. But whether it is favorable or unforgiving, I will stand where I stand, and take comfort from my confidence that I took my responsibilities to my country seriously, and despite the mistakes I have made as a public servant and the flaws I have as an advocate, I tried as best I could to help the country we all love remain as safe as she could be in an hour of serious peril.
It really doesn't get much better than that.