Republicans Archives
God Bless Texas
July 11, 2008 09:50 AM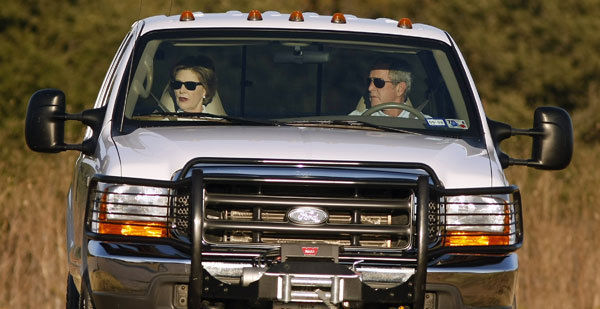 No reason. I just like the picture.
DCCC Still Doesn't Think Wulsin Has Much of a Shot
June 20, 2008 08:53 AM
I'm sure they'll add her to their "Red to Blue" program later this summer. But round three of their list of targeted pick-ups is out, and Ohio 02 isn't on the list. From The Hill:
Democrat Victoria Wulsin came within 3,000 votes of defeating Rep. Jean Schmidt (R-Ohio) in 2006 and is taking another shot this year, but she's still got something to prove to national Democrats.


Unlike every other near-miss rematch candidate, Wulsin has not yet been named to the Democratic Congressional Campaign Committee's (DCCC) Red to Blue program.
The Democrats were fools to pick Wulsin over Steve Black in the primary. Yes, Wulsin came close last time. But Black is a much better fit for the district.
Getting on the Red to Blue list brings lots of attention and money. The Wulsin Campaign seems ticked by the DCCC's neglect.
Wulsin spokesman Kevin Franck was critical of the DCCC, and cast doubt on whether national Democrats know what is happening on the ground. He pointed to recent gains in Democratic registrations and Wulsin's outperforming in her district of Gov. Ted Strickland (D) and Sen. Sherrod Brown (D) in 2006.


"I'm not sure I understand the D-trip's thinking, completely," Franck said, adding: "Interacting with the D-trip and the national party organizations, when you get to the highest levels of decision-making, where the choices are made about which list a race goes on, there seems to be a lot of mystery surrounding the metrics they're using.


"I think we have a very clear case. We have an incredibly unpopular incumbent in a district that's not a Republican stronghold anymore. Vic has been running for two and a half years now. Her name ID is much higher than it was. We have more money than before."


The National Republican Congressional Committee (NRCC) has taken note of the DCCC's lack of action. NRCC spokeswoman Julie Shutley, said: "With one loss already under her belt against Rep. Schmidt, Wulsin seems to be having a tough time convincing her own party she has a remote chance of launching a competitive campaign."
If the Wulsin campaign hasn't made its case to the DCCC by now, it's probably too late. Like I said though, they'll add her to the list later this summer (they've already got her on some sort of watch list, that means it's coming next time). It'll give her the chance to put out a release that says the DCCC thinks the race is tightening, and she'll get some free media out of that.
But in the meantime, the campaign cash and the attention is going elsewhere.
Only 12% of Republicans are "very satisfied" with McCain as the nominee
June 19, 2008 04:33 PM
People
think the number is shockingly low
. But I have to ask: Who are these 12%? I know of no one.
Hey, your Dad just dropped out of the Presidential Race. Whatcha gonna do now?
May 23, 2008 09:45 AM
Mitt Romney emails NBS with an update on the Five Brothers:
Dear [NBS]:

I'd like to update you on what's been happening since the campaign ended and to tell you about my latest venture.

First, Ann and I have some exciting news. We have three new grandchildren on the way!
That's a lot of procreatin'. Maybe one of them is having triplets?
The Party Leadership We Deserve?
May 12, 2008 03:38 PM
Ready to get depressed? The House Republicans have a new slogan that is obviously a reaction to Obama's nebulous calls for "change." The slogan is, dum dum DUM: "Change You Deserve."
Actually that drumroll should be "dumb dumb DUMB." You know they paid a consultant a ton of money to come up with it, and it's not even that great.
And even worse, it turns out that "Change You Deserve" is already the registered advertising slogan of Effexor XR-- which treats "depression, generalized anxiety disorder, social anxiety disorder, and panic disorder in adults." It's common side effects are nausea, apathy, constipation, fatigue, vertigo, sexual dysfunction, sweating, memory loss, and "electric shock-like sensations also called 'brain zaps.'"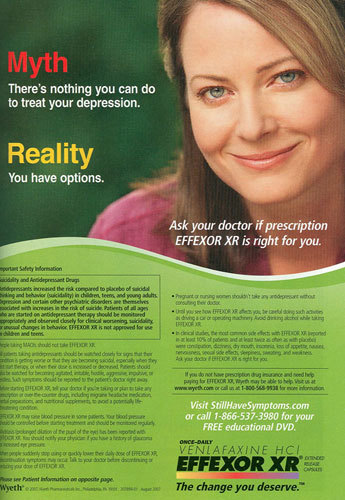 Maybe it's what we should all be on to get us through the McCain candidacy? I know I've already got the nausea and the apathy, and Bob Dole--our last truly horrible nominee--can help with the worst of the rest of the side effects. He'll hook you up, I hear. And they say we don't have a prescription drug plan.
Nope, still no baby
March 16, 2008 08:21 PM
Thanks to those of you who have asked. Still no signs. I was hoping for something this weekend, so I could miss work on Monday. But nothing yet.
The official due date is not until Tuesday. I keep reminding Mrs. NBS of that. "It's not like a library book," I tell her. "You don't have to have finished with it by the due date." I know, I'm not much help. But really, what am I supposed to do? Since I don't know, I just crack lame jokes, like asking, "Are you stuck?" when she was dusting under the bed. That got a big laugh. From me, anyway. I thought Winnie the Pooh jokes were baby-appropriate?
I did get a laugh out of her when I packed my bag for the hospital. It started out with me thinking that I may have to come straight from work, and would not want to go through all that "hospital stuff" in a suit. So I packed my own bag: Duck boots (in case things get messy), wicking fabric shorts and shirt (if it's sweaty) and airport-sized bottles of rum that I got out of a piñata at a Halloween party a few years back (no parenthetic explanation needed). And no, cheap rum is not my beverage of choice, but I think it's tacky to make a liquor store run just so you can pack you childbirth bag. And now's actually a good time to get it off the NBS bar--I never have it out if people are over. I think it's orange flavored, or something like that. But as they say, any port in a storm.
Ooooo. There's an idea. Maybe I should pack some port?
The more Victoria Wulsin talks, the less people are going to like her
March 7, 2008 01:14 PM
Here she is, chirping away like a Chatty Cathy doll, on the radical left-wing cesspool that is Firedoglake. Here's her take on crossover voters:
The 2nd District has some very interesting dynamics. Congressman Bob McEwen [OH-R] called this morning to congratulate me. He said that at his dinner table last night, the other six guests - all Republicans - had chosen Democratic ballots and voted for, yep, Vic Wulsin! He says the Repubs want her OUT (he barely lost to her in the '06 primary, so remember where he's coming from) and want a reasonable alternative. So, I'd like to think some of the crossing-over comes from a desire to get Schmidt out. As an epidemiologist, I look forward to crunching some numbers to see where the biggest "crossing-over" occurred, and how that affected the Clinton:Obama ratio and the Wulsin:Black ratio.
Okay, first, why the hell is Bob McEwen calling Victoria Wulsin to congratulate her? Can that man possibly do more to destroy his reputation? And two: How whacked is Victoria Wulsin if she thinks the reason crossover voters went for her is because they like her better? Uh no. The reason they voted for her is for the same reason they voted for Hillary. Because she's easier to beat in the fall. Third: What does an epidemiologist know about cross-over voters? What does she think they are, disease-addled bird flu victims?
And check out this comment, where she talks about bringing jobs to Southern Ohio by building windmill factories:
Preznit - Great. I think we could also bring jobs to southern Ohio by actually manufacturing the windmills and solar-mills that we're going to need to become energy independent. We are at the beginning of a paradigm-shift in how we create, use, and conserve energy.
Forget the Ford Plant or anything in Portsmouth. Let's build windmill factories! Everyone tilt at windmills! Come on, let's go. Tilt, tilt, tilt. Hey you--you're not tilting far enough. You need to tilt a little more... to the left.
It's so ridiculous. And she's got the completely wrong strategy. Read through all of her comments, and it's pretty clear that she thinks the district has lurched wildly to the left. She hasn't gotten the memo that Iraq is nowhere near the election issue that it was in 2006. Iraq is going quite well right now, even The New York Times knows that. Another memo she hasn't gotten? The one that says candidates should NEVER leave comments on blogs. That's what campaign lackeys are for. Hilarious.
HT: Nixguy.
UPDATE: WMD has commentary on this as well. Funny comments ensure, mostly from the prominent local conservative blogger crowd. I'm guessing this is the last time Bob McEwen calls Victoria Wulsin up for a tête-à-tête.
Mrs. NBS is nine months pregnant, and now we're having a blizzard
Welcome to my world.
In case it's not obvious, we're not exactly "deliver at home" kind of people. Thank God for Youtube. I'm sure I can find something on there that tells me what I'm supposed to do.
Oooooooo. Here's an idea. Maybe I can get her to shovel the driveway. She's ready to get this baby out. And then the driveway will be clear for when we need it.
Is the Secretary of State taking on the "Limbaugh Effect"?
March 6, 2008 02:29 PM
And if so, to what ends?
From the Enquirer's Politics Extra:
Brunner's staff has begun to call counties to find out how many crossover voters there were and how many 10x forms were filled out by pollworkers if someone switches parties within two years.

"Once we start to gather the figures of what rate of crossover was, then we can start to dig into . . .what some of the motivations were."
Why is she digging into what some of the motivations were? How is that an appropriate area of concern?
And what about this?
She does plan to ask counties for statistics and details on voters who signed forms attesting that they switched political parties.
Gathering statistics doesn't concern me. Gathering "details on voters" does.
Is she going to also look at the McCain Effect from 2000? That was when Democrats in Ohio voted for McCain in the Republican primary to slow down George W. Bush.
I say what's good for the goose is good for the gander. And I think you're playing with fire when you start looking at voter's "motivations."
Jean Schmidt is more popular among Republicans in Ohio 02...
March 5, 2008 09:00 AM
...than John McCain is among Republicans in Texas. Jean won her district with 57%. McCain won Texas by 51%. Texas!
Don't tell me John McCain doesn't still have a lot of work to do convincing Republicans to go out and vote for him.
For the first time, I walked in to the polls not knowing who I was going to vote for.
March 4, 2008 09:07 AM
The temptation to cross party lines and vote for Hillary was very, very strong. Having her continue to battle it out with Obama is very good for the cause. But in the end, I couldn't do it. The woman in front of me did, though. And I know a lot of people who were considering it. When you switch parties, you have to complete a form that says you swear "to uphold the principles of the Democratic party." Well that wouldn't be too hard--since they have no principles.
How's that for an obvious joke?
Anyway... I placed my protest vote for Mitt Romney. Not that it will matter in the end. My protest vote in the 2000 primary didn't matter either.
I did get to vote in all the down ticket Republican races. For Congress, I voted for Jean Schmidt. Over at WMD, they've pretty much summarized my thoughts on that race, so I won't repeat it all here. The only other contested race was Pat DeWine v. Kathy King for Judge. I voted for Pat, since he's pro-life, and Kathy is not. For most of the other judicial races, I refrained from voting for the party's endorsed candidates. Most of the people they put up are total chuckleheads--though it was a nice reminder of how glad I am that I litigate almost entirely in federal courts these days.
And of course, I voted against the Cincinnati public school levy and the zoo levy. The only way I'd get behind either of those two organizations would be if they switched missions. Let the zoo put the CPS students behind bars, and let the schools educate the animals. We'd end up with a safer community and a more intelligent workforce.
I'm kidding of course. Well, slightly kidding.
The campaign (thus far) of the man we were told had the best chance to win
March 3, 2008 02:00 PM
The Politico has a look at how well it's going:
McCain was accused of having a romantic relationship with a lobbyist by The New York Times (he vehemently denied it). The DNC filed a complaint against McCain with the Federal Election Commission questioning whether he is violating the spending limits imposed on a campaign that takes public funds.

Mike Huckabee continued to nip at McCain's heels, postponing a full pivot to the November race. And just last week McCain had to spend part of two days denouncing ostensible allies and apologizing to Barack Obama for the use of his middle name.

Oh — and Obama and Hillary Rodham Clinton raised more than $130 million combined in the first two months of the year.
That $130 mil is an estimate, we don't have the February numbers yet for Obama. We know McCain raised $12 million in January, and it is estimated he raised about that much in February. So about $24 million. A pittance, considering how much the Democrats are raising. Especially Obama.
See what a difference it makes when the base is passionate about the candidate?
And, wouldn't it be ironic if the man who brought us modern day campaign finance reform were unable to finance his campaign? Some might even say that's poetic justice. Not me, of course. Just some people.
So, who did John McCain appear on stage with, the day after LocalRadioGate '08?
February 28, 2008 10:29 PM
John Hagee, an influential pastor in the "Christian Zionist movement." Whatever the hell that is. Senator McCain was on stage with Pastor Hagee to receive his endorsement. Has Pastor John Hagee ever said anything controversial? Anything John McCain might want to repudiate? I dunno... let's see...
Bill Donohue of the Catholic League is objecting Hagee's extremist writings, particularly his denunciations of the Catholic Church. For example, Donohue pointed to instances in which Hagee has referred to the Catholic Church as, "The Great Whore," an "apostate church," the "anti-Christ," and a "false cult system."
Okay. So we know what he thinks about the Catholics. What about the Jews? Well, Pastor Hagee says that the Jews have been persecuted throughout history because of... what? ... their failure to accept God.
Wanna see Pastor Hagee in action? I bet you do.
But Bill Cunningham? He's the bigot.
McCain Refused to Condem Supporter for Calling Hillary Clinton a B****
Let's go back in history, shall we? Waaaaaay back to November of last year. The scene? Hilton Head, South Carolina, and a woman at a Q&A who asked John McCain:
"How do we defeat the bitch?"
And what did Senator McCain say in response? Here was the take of his frenemies at The New York Times:
Mr. McCain was obviously uncomfortable, trying to deflect the vitriol with humor and offering to give a translation. But he did not condemn the questioner, instead calling it an "excellent question."
Here's what I think is an excellent question: Why the hell should I help John McCain get elected President this November?
From the "still not getting it" department: Mike DeWine on LocalRadioGate '08
DeWine says to the Enquirer:
"I can't believe in the end that voters are going to make a decision in November based on what John McCain said about Bill Cunningham in February," DeWine said.
How quaint. He thinks the latest uproar with the base is about McCain repudiating Willie. It's not. It's not that at all. It's that this is YET ANOTHER EXAMPLE of McCain throwing a conservative under the bus. And when you throw enough people under the bus, you will wake up one day and find that there is no one left to speak for you. Will that be in November? We'll see.
William F. Buckley, Jr., 1925-2008
February 27, 2008 02:14 PM
From The New York Times (!):
Mr. Buckley's greatest achievement was making conservatism — not just electoral Republicanism, but conservatism as a system of ideas — respectable in liberal post-World War II America.
And it is so obvious these day, isn't it? There is a big distinction between electoral Republicanism and conservatism as a system of ideas. Sign me up with the later.
Also timely? The NYT's amusing reminder of National Review's lukewarm endorsement of Eisenhower in the 1956 presidential election:
"We prefer Ike."
It seems we are still fighting the same battles. But we would have already lost the war if it weren't for WFB.
John McCain Comes to Southern Ohio to Make Peace with Conservatives, and Promptly Throws Bill Cunningham Under the Campaign Bus
February 26, 2008 01:44 PM
The same Bill Cunningham who has worked tirelessly for Republican candidates and conservatives causes for years--usually using the same kind of rhetoric that he used today. From the Enquirer:
Cunningham came out on stage to whip up the crowd as he often does at Republican campaign events in Cincinnati. He repeatedly referred to Obama using his middle name -- Hussein -- and said that Obama was a product of the "Chicago-Daley mob."
Nothing untrue, and nothing unusual there. Willie had similarly direct comments for Al Gore in 2000 and John Kerry in 2004.
So what does the McCain camp do? His aides get all bent out of shape, and have McCain (who didn't even hear the remarks) trot out after his speech to "repudiate" Willie:
Only minutes after his campaign rally ended, McCain apologized for remarks by WLW talk show host Bill Cunningham that McCain said he thought were offensive to Obama.

"I take responsibility and I repudiate what he said," McCain told reporters after the rally.
Not the way to make Republican friends in Southern Ohio. Oh well. Who needs Republican friends in Southern Ohio?
McCain went on to explain the approach his campaign will take:
"I will not tolerate anything in this campaign that denigrates either Sen. Obama or Sen. Clinton,'' McCain said.
And what does that remind me of? Another 700WLW personality, Marty Brennaman, who got in hot water last year for comparing one of the Reds' West Coast roadtrips to the Bataan Death March. Because that's what this campaign with John McCain is going to be.
One long Bataan Death March.
UPDATE: Clerk of Courts Greg Hartman is now on Willie's show blaming "the media," and saying this goes to show how Republicans won't get a fair shake this fall. But the media weren't the ones who apologized for, and repudiated, one of the region's most prominent conservative voices.
Political Confusion Breaks Out in Ohio 02
February 23, 2008 11:09 PM
So I was on the way to Lowe's to buy air filters because we're on a pre-baby cleaning binge, and I see right there on Marburg Avenue that there is a house with two signs out--one for Jean Schmidt and the other for Barack Obama. What the hell? I almost pulled over to take a picture for the blog, but I realized commenters--probably CincyJeff--would immediately chime in with "See, I told you she was a liberal! It makes perfect sense!" Or words to that effect. So I was going to keep it to myself. Until I got a little further down the road, and passed a business that has signs up for both Tom Brinkman and Hillary Clinton. Again, what the hell? What is wrong with these people? Who are they going to vote for when they get to the polls on election day, and realize they can only get a Republican ballot or a Democrat ballot?
And what to make of all this? There is only one conclusion I'm drawing from this political confusion, and it's that come November, the Republican presidential candidate is going to be in a world of hurt. It's a good thing we have a candidate the party can rally behind. Oh.... wait.
The neighbors have Barack Obama signs out too. We're not surprised by the people next door--they accused me of stealing their Kerry/Edwards sign four years ago. We've had kind of a North Korea/South Korea relationship ever since. There's like a DMZ and everything. But what explains the nice couple across the street? Today they put their Barack signs out. And they went to Furman. The only explanation I can come up with is that it's a Baptist school, and they must be susceptible to good preachin'. Lawd have mercy.
Fox News accurately, but accidentally, identifies John McCain's party and home state
February 8, 2008 10:10 AM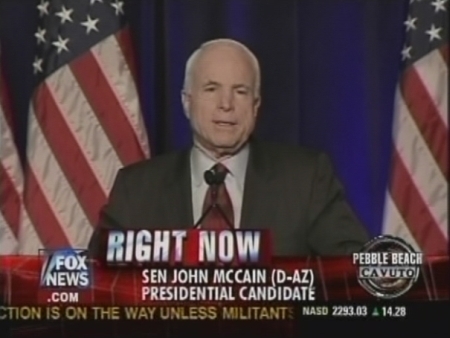 One good thing about McCain...
February 7, 2008 05:08 PM
...now we don't have to hear Mike Dewine trying to get us all to vote for his former Senate colleague. Dewine was running McCain's campaign here in Ohio. And Mike Dewine basically embodies everything the base of the party doesn't like about McCain.
For the general, I'd strongly suggest to the McCain camp that they find a different "troop-rallier" as we head into the fall. Republicans here don't like Mike.
McCain seeks a truce with conservatives
Politico describes his two-pronged pitch:
Prong one: McCain is not really so bad, is quite conservative on spending and the Iraq war and is far better than the alternative come this fall. Prong two: The time has come to stop stewing and get on board.
Patronizing. And typically contemptuous. I'm not ready to make nice, and I sure hope others aren't either.
Because the depressing news can't start early enough, here we have the signage that helped John Derbyshire figure out where to vote...
February 5, 2008 04:33 PM
Welcome to John McCain's dream world.
From The Corner, at NRO Online.
McCain discussed switching parties in 2001
February 1, 2008 08:46 AM
Sen. John McCain (R-Ariz.) was close to leaving the Republican Party in 2001, weeks before then-Sen. Jim Jeffords (Vt.) famously announced his decision to become an Independent, according to former Democratic lawmakers who say they were involved in the discussions.

In interviews with The Hill this month, former Sen. Tom Daschle (D-S.D.) and ex-Rep. Tom Downey (D-N.Y.) said there were nearly two months of talks with the maverick lawmaker following an approach by John Weaver, McCain's chief political strategist.

Democrats had contacted Jeffords and then-Sen. Lincoln Chafee (R-R.I.) in the early months of 2001 about switching parties, but in McCain's case, they said, it was McCain's top strategist who came to them.
Why is this just now coming to light?
"The road to the White House goes through Florida, and the road to Florida goes through The Villages."
January 29, 2008 12:53 PM
So says an old fart quoted in this article, anyway. Mrs. NBS and I always laugh at the commercials for The Villages. It makes Florida--God's waiting room--look like a hellhole.
Sorry I can't find the commercial where they're all tap dancing. That one's a classic.
Evaluating the candidates' bumper stickers
January 27, 2008 08:16 AM
I've already said I can't imagine putting a Huckabee sticker on the back of my car. That's mostly because it's such a hill-jack name, backed up by a hill-jack personality. Graphic designers have a problem with the aesthetics, too:
Huckabee has the most inexplicable selection of typography and graphics, from the six floating stars to the white stripe seemingly stolen from the Coca-Cola logo. The overall effect is clutter. The main typeface, used to set the candidate's name, is very tightly spaced, or tightly tracked, as typographers like to say. Some letters, like kab, are actually touching each other. Then "Mike" is tucked in between the H and k as if "we almost forgot to tell you his first name." Setting FAITH. FAMILY. FREEDOM. in such a thin weak sans serif feels as if it was added as a committee compromise or an afterthought. The type is too light, too small, and does not have a real voice.
They're right. It definitely has an "I've never done this before" kind of look to it. Kind of like he stopped by a Minuteman Printing on the way home one afternoon and said, "Shirley, what can you come up with?"
At the opposite end of the extreme: John McCain. I have my problems with him on the issues, but his campaign graphics are fantastic. Mrs. NBS and I actually discussed this a few weeks ago, and when you have people actually discussing how much they like the bumper stickers for someone they're not going to vote for, it means the designers hit a home run. Here's what the experts say:
McCain uses type that is a perfect compromise between a sans and a serif, what type geeks call a "flared sans." Not quite sans and not quite serif, sort of in between, moderate, not too far in either direction. The strokes have contrast between the thick and thin, creating the feeling that the ends are going to have cute little serifs, but they just flare out a little, not forming actual serifs but wanting to. The military star centered and shadowed is a not-so-subtle touch. And McCain just says "President," as if to say he's already been elected. Everything about this logo says you can buy a car from this man. From the perfectly centered star to the perfectly spaced type, the entire design looks like a high-end real estate company. McCain has done something no other candidate has done, he uses all blue, no red - not even a dash.
And the blue he uses is almost a black. With the white star, it looks very, very crisp. Lean. Trim. Fit. Very "I'm more than Harrison Ford in Air Force One could ever even dream of being."
On the Democrat side, the graphic designers say the winner is Obama. I'm actually not wild about his design. Doesn't it look...too liberal? John Edwards got the (supposed) working class mantra right with his simplistic "my shift ends at 1:00 a.m. and I'm pissed" look. And Hillary's graphic? Exactly like bumper stickers always look. Boring. What's she running for, state rep.?
Stimulus Package
January 24, 2008 05:02 PM
What I want to know is do we get extra money for the NBS baby even though she won't be born until March, but will be born before the checks start gettin' cut?
I wants to take our babymoney to the Argosy.
Married people to get screwed under Democrats' ecomonic stimulus package
January 18, 2008 11:16 AM
The White House wants tax rebates of $800 per person, or $1,600 per couple. Democrats want rebates of $500 for individuals who make $85,000 or less, and (it sounds like) $1,000 for couples who make $110,000 or less.
$110,000 is not two times $85,000.
Details are still being worked out, of course.
What would you do with your check from da guvment? Would you... buy a Hillary Clinton nutcracker from my google ads? Just an idea, you know. A small little hint.
But anyway... The Democrats think families who make more than $110,000 won't spend it. I think they would, they would just spend it on higher ticket items, like durable goods, car downpayments, and domestic travel. All sectors that are worth stimulating.
Why should we only stimulate convenience stories and Wal-mart?
The Candidates' Homes, an NBS Tour
January 17, 2008 02:59 PM
Of course, Mother Jones put these photos up because they want you to think we're ruled by monied, hypocritical, gas guzzling aristocrats, no matter which party wins. I'm putting them up because real estate is porn for married people. So let's begin!
Here's Huckabee's house. Not surprisingly, the candidate that I like the least has the house I like the least. It's weighs in at 5,124 square feet, with a deck and a swimming pool. It's also boring, and has atrocious landscaping:
Here's Rudy's pad in New York. I really can't relate to it, but it's got a Walnut-paneled dining room and a cigar room. I don't smoke, but I like the sound of that. There's no rule that says you can't use your cigar room as a drinking room.
The McCains do the tall building thing too, but theirs is a $4.7 mill condo in Phoenix. They also have a ranch in Sedona, which was profiled in Home & Garden. I think I also saw it in Architectural Digest a few years ago. It was nice. Better than their condo, anyway:
Turning for a minute to the other side of the aisle, here's Hill and Bill's place in Westchester County. I have no problems with it, and it certainly comports with whatever their pollster told them to buy. I just wonder if they've ever seen it themselves?
Can't you just feel the love radiating off of the Clinton's house? You know it's just a place of intimate diners for two, and passionate, romantic interludes. When Hillary's in D.C.
The Obamas' place in Chicago is also nice. And, it has a 1,000 bottle wine cellar. Me like the sound of that! Party at the Obamas! They need to learn to bring the trash cans back up promptly though. How rude.
You've already heard me opine in the hideousness of the Edwards home in North Carolina. It is too big (21,000 square feet). And it has an indoor basketball court. They also have a beach house in North Carolina. Presumably it's more suitable to his "Two Americas" crap than this is:
Here's one that's big and tasteful. It's the Romney's ski retreat in Park City, Utah. Looks like a house the Bushes would own. Mitt has residences in several states, I believe. Mrs. Romney must do a lot of dusting. Of course, when you don't smoke or drink, what else is there to do?
NBS is ready to call the winner in the taste department, though. This is the Thompsons' house in McLean, Virginia. A seven bedroom, five bath stunner with a real Presidential air.
Gorgeous.
So who's actually in the lead where it matters (the delegate count)
January 7, 2008 04:15 PM
The Green Papers is keeping track, and trying to make sense of the ridiculously complicated rules. After Iowa and Wyoming, we've got:
Romney: 17

Huckabee: 13

Fred: 8

McCain: 5

Paul: 4

Rudy: 1
You need 1,259 to get the nomination, so nobody is even close. For the Dems, Obama's got 16, Hillary's got 15 and Edwards has 14. That's just after Iowa. The Dems didn't do Wyoming yet. Bet you didn't know Hillary got more delegates from Iowa than Edwards, even though she finished with fewer votes. Further proof that the system makes no sense.
Can you imagine putting a sticker that says "Huckabee" on the back of your car?
January 4, 2008 08:57 AM
Me either.
The Iowa Results
January 3, 2008 11:00 PM
Hillary in third? A dream come true. True, I'm not being astute, because she's the easiest to beat in the general election, and all good Republicans should root for her in the primaries. I'm not one of that crowd. I want her, and him, gone.
As for the Republicans? Bad, bad, news for conservatism tonight. There is now a real possibility that we will be dealing with three major Republican candidates--Huckabee, McCain and Rudy--and not have a conservative among them. That's a sad, sad day. And a recipe for disaster in November.
Maybe it's just time to tune out, drop out, and make as much money as possible with the real job, since Edwards and Huckabee want to redistribute such a huge proportion of it.
Iowa. So what's the dream scenario for tonight?
I'd just love the Republicans to poll as follows:
(1) Romney, (2) Huckabilly, (3) Ron Paul, (4) Fred Thompson, (5) McCain and (6) Rudy.
Why? Because Romney is the well-rounded conservative in the case (other than Thompson, who can't win). Huckabee at No. 2 because well, that's just where he's going to be if he doesn't get No. 1. I'd like Huckabee to poll lower (last, actually), but that's just not possible. I'd like Ron Paul at No. 3 because I will delight at the gnashing of teeth. Fred at 4 because that's the only way Paul gets the 3 slot, and because Fred needs to drop out. McCain at 5 because we want to burst the latest "we love John McCain" media bubble before New Hampshire gets out of control (if it is not already). And Rudy at 6, just because he's not trying in Iowa at all.
As for the Democrats, I'd love to see:
(1) Obama, (2) Edwards and (3) Hillary.
Why? Because OH MY GOD if Hillary Clinton finishes third it would be just about the happiest day I could possibly ever have. Obama in first because he's not John Edwards and because if Edwards finished first he may actually win the nomination and that would be a disaster because he could actually be elected President. And we do not want that.
Can you imagine what tomorrow morning will be like if Hillary Clinton and Ron Paul both finish third in their respective primaries?
So I'm ready for a glass of wine, a spot on the couch, and Henry (the black lab) in his wing-back chair. Hopefully Shepard Smith is still on vacation. His annoying face is the only thing standing in the way of a great evening.
So what's going on with Baby NBS?
January 2, 2008 12:02 AM
All is well, we hope. And we have no reason to believe it's not. Here's a semi-creepy thing that shows you exactly what is going on:
We do know it's going to be a girl, and we're busy getting ready for the big arrival. Hopefully she's cute. And not a Democrat. We've actually talked about this.
Me: What if she turns out to be a Democrat?

Mrs. NBS: She won't.

Me: But what if she is?

Mrs. NBS: She won't be a Democrat.

Me: You can't always control these things. What is she's a rebel?

Mrs. NBS: There's just no way.

Me: Well you just never know. It happens even in the best families.

Mrs. NBS: I know. There's always boarding school.
We also want her to be healthy. And, if you think this is a parody of an actual conversation, you'd be wrong.